Academic Partner – ICEDU 2020
|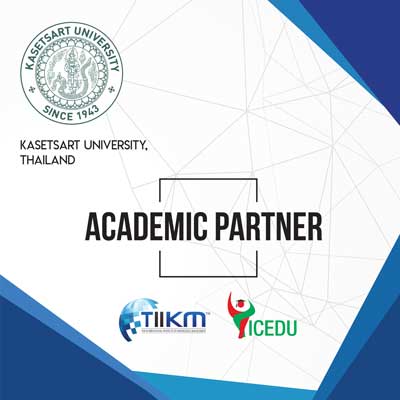 We would like to happily announce that Kasetsart University, Thailand has joined hands with The International Institute of Knowledge Management as the Academic Partner for the 6th International Conference on Education – (ICEDU 2020), which is to be held on 03rd – 05th April 2020 in Bangkok, Thailand.
Being placed 3rd in Thailand, Kasetsart University also holds the World Ranking of 500 +. Kasetsart University is eager in seeking and developing knowledge to flourish through wisdom which is fully equipped with academic, ethical and moral as well as directing the direction of the good spirit of society for the existence, prosperity and civilization of the nation.
The ICEDU 2020 will be chaired by Prof. Eugene P. Sheehan, Dean, Professor of Psychological Sciences College of Education and Behavioral Sciences, University of Northern Colorado, USA and the Key Note Speaker will be Prof. Cheng Yin Cheong (EdD, Harvard), The Education University of Hong Kong, and Hong Kong.
Visit the ICEDU 2020 Conference Website – https://educationconference.co/