Art Conference PLENARY SPEAKER
|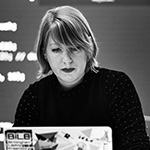 Dr. Shelly Knotts
Monash University
Australia
Dr. Shelly Knotts from Monash University, Australia will be the plenary speaker for the 6th International Conference on Arts & Humanities (ICOAH) 2019. Being a researcher and performer, she produces live-coded and network music performances and projects that explore aspects of code, data and collaboration in improvisation. She performs and presents her work internationally, and collaborates prolifically with computers and other humans. Shelly was also a Research Fellow at SensiLab, working on the ARC-funded project Improvisational Interfaces.
Shelly studied for a PhD in Live Computer Music at Durham University, with a focus on the social dynamics of collaboration in Network Music. In early 2017 she was Leverhulme Artist-in-Residence at the School of Chemistry, Newcastle University, working on the project Molecular Soundscapes. She has received commissions and residencies from national funders in the UK and in 2017 was a winner of The Oram Awards for innovation in sound and music.
Her current artistic projects include the algo-pop duo ALGOBABEZ (with Joanne Armitage), telematic laptop ensemble OFFAL (Orchestra for Females and Laptops) & audio-visual, generative live coding performance [Sisesta Pealkiri] with Alo Allik. Her music has been released on Fractal Meat and Chordpunch record labels.
The 6th international conference on arts & humanities (ICOAH 2019) will be held on the 19th – 20th of September 2019 in Kuala Lumpur, Malaysia under the theme "Decolonization in the arts & humanities".