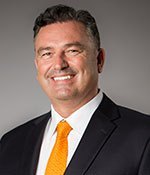 Prof. Stephen Pointing
Professor and Director of Science, Yale-NUS College and Department of Biological Sciences,
National University of Singapore, Singapore.
Professor Stephen (Steve) Pointing is Director of the Science Division and Professor of Environmental Studies at Yale-NUS College in Singapore. He will be the keynote speaker for the 5th international conference on bioscience & biotechnology (BIOTECH) 2020. Prof Pointing earned a BSc Biochemistry and MSc Microbiology in the UK. He won the prestigious Sainsbury Scholarship for postgraduate environmental research at the Bermuda Ocean Institute and was awarded a PhD Marine Microbiology in 1995.  Prof Pointing gained his MBA Education Management from Leicester University in 2010. Prior to joining Yale-NUS, he held academic positions in the United Kingdom, Hong Kong, Japan and New Zealand. He has an H-Index of 47.
Prof Pointing has spent over 20 years researching extreme environments finding microbial life where it should not exist, and this work has taken him all over the world from tropical hot springs to Himalayan lakes and Antarctic deserts. He has published some of the pivotal findings in his field and led several large international research projects. Prof Pointing is an award-winning teacher with a passion for making environmental issues exciting and societally relevant in the classroom. He is also very active in science communication and outreach, having made over 200 television and radio appearances commenting on environmental issues. Attached below is the link of a popular talk he had given at TEDx Talks on the topic of "Colony Earth? Humanity after alien contact" https://www.youtube.com/watch?v=s97kzS-6z30
The 5th International Conference on Bio-Science & Bio-Technology (BIOTECH) 2020 will be held on the 27th – 28th of February 2020 in Kuala Lumpur, Malaysia under the theme "Transformation of Bio-Economy via Innovation in Industrial Biotechnology "