Global Public Health 2019 – Conference Report
|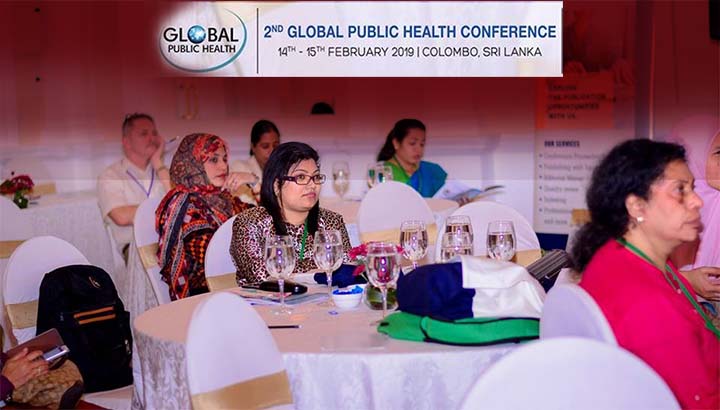 The 2nd Global Public Health Conference was organized by The International Institute of Knowledge Management (TIIKM)  Sri Lanka in collaboration with School Health Sciences, the University of Sains Malaysia as the Hosting Partner and University of Muhammadiyah Malang, Indonesia as the academic partner of the Conference. The Conference was held on 14th–15th February 2019, at Hotel Taj Samudra, Colombo, Sri Lanka under the theme "Enhancing Global Health Development towards Sustainable Healthy Communities", was chaired by Prof. Dr. Wong Li Ping, Department of Social and Preventive Medicine, University of Malaya, Malaysia.
A successful well-organized conference
The Keynote forum was one of the most significant moments during the conference and it was enlightened by the keynote speech by Dr. Peter Navario, Clinical Associate Professor of Public Health Policy and Management, Executive Director, Health Right International, NYU College of Global Public Health, USA "$500 Billion in a Decade: Reflections on Development Assistance for Health in the MDG-Era and Prospects for Achieving SDG 3." Plenary Speeches were made by Dr. Rosete J.M.B. Municipal Health Officer – Limasawa / Doctors to the Barrios – Department of Health, Philippines on: "Clean Strategy – A Community-Based Intervention and Its Effects in the Smoking Prevalence, Cessation and Tobacco-Related Mortality and Morbidity in the Municipality of Limasawa, Southern Leyte". Dr. Vineet Daniel Alex Kerala University of Health Sciences, India highlighted his plenary speech on "Tobacco – A Multipronged Global Killer".
Togetherness with international researchers
The 2nd Global Public Health Conference 2019 provided a solid platform for eminent researchers, academia, government officials and other professional bodies from across the globe to share their research findings with one another and to discuss their ideas on the subject of Public Health. The conference provided a refreshing experience for all, especially for the young researchers who had the opportunity to share their research findings on an international platform.
The conference was enlightened by international researchers representing ten different Nations; USA, Malaysia, Philippines, India, Taiwan, Pakistan, Japan, Korea.
A combination of inspiring technical sessions 
The Conference consisted of eight (08) Technical Sessions and a Poster and Video Session. The
technical sessions are as follows:
GLOBAL NON-COMMUNICABLE DISEASES PREVENTION STRATEGIES I
GLOBAL NON-COMMUNICABLE DISEASES PREVENTION STRATEGIES II
SOCIAL DETERMINANTS, SOCIETY, QUALITY, INEQUITY IN LOW MIDDLE – INCOME COUNTRIES IN GLOBAL PUBLIC HEALTH
HEALTHCARE EPIDEMIOLOGY, MULTIDISCIPLINARY APPROACHES, COMMUNICATION AND PROMOTION IN GLOBAL PUBLIC HEALTH
WOMEN AND CHILD HEALTH I
EDUCATION & COMMUNITY-BASED HEALTH PRACTICES I
WOMEN AND CHILD HEALTH II
EDUCATION & COMMUNITY BASED HEALTH PRACTICES II
POSTER SESSION
ONLINE VIDEO SESSION
Find the full Conference Report through below link, written by Global Public Health Conference Rapporteur,  Rev. Sr. Dr. J. Josepha, Faculty of Health Care Sciences, Eastern University, Sri Lanka