Poverty & Sustainable Development Conference Chair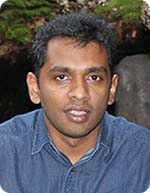 Dr. Darshana Rajapaksa
Senior Lecturer
Department of Forestry and Environmental Science
University of Sri Jayewardenepura
Sri Lanka
Dr. Darshana Rajapaksa who is a Senior Lecturer at the Department of Forestry and Environmental Science, University of Sri Jayewardenepura, Sri Lanka will be a co-chair for the 6th International Conference on Poverty & Sustainable Development (ICPSD) 2019. Prior to his work as a Senior Lecturer, he has more than a decade of experience working in the field of agriculture, environment and development economics in multiple countries; Sri Lanka, Australia and Japan. Dr Rajapaksa served as Agricultural Economist (Department of Agriculture, Sri Lanka), Assistant Professor (Kyushu University, Japan), graduate and postgraduate researcher (Queensland University of Technology, Australia) and Casual Academic (Southern Cross University, Australia).
He graduated with BSc (Agric., Sp., Hons.) in 2004 and subsequently he obtained MSc in Agricultural Economics in 2008. He completed a doctorate in Resource and Environmental Economics at the School of Economics & Finance, Queensland University of Technology (QUT), Australia in 2015.
As a member of multi-disciplinary research and development teams in his responsibilities, Dr Rajapaksa has accumulated wide expertise in research design, qualitative and quantitative analysis, monitoring and evaluation and reporting. He has disseminated his research findings as journal articles in number of high impact academic journals, book chapters and reports. He also has presented in number of well-known international conferences. His research interest mainly focuses on environmental management, natural disasters, agricultural policy and food security, with the ultimate goal of sustainable development and poverty eradication.
Equally, his teaching expertise has been derived from lecturing as a sessional academic at QUT and Southern Cross University and in his role as Assistant Professor, Kyushu University and Senior Lecturer, University of Sri Jayewardenepura, Sri Lanka. The variety of positions he has held within government departments, university faculties and research institutes, have allowed him to develop the necessary high level of competence in teaching and research.
The 6th International Conference on Poverty & Sustainable Development (ICPSD) 2019 will be held on the 5th – 6th of December 2019 in Colombo, Sri Lanka under the theme "SDG 1: A World free from Want: Poverty and Social Exclusion in the 21st Century"