"Voices of Women: Transition from Inspiration to Action"
|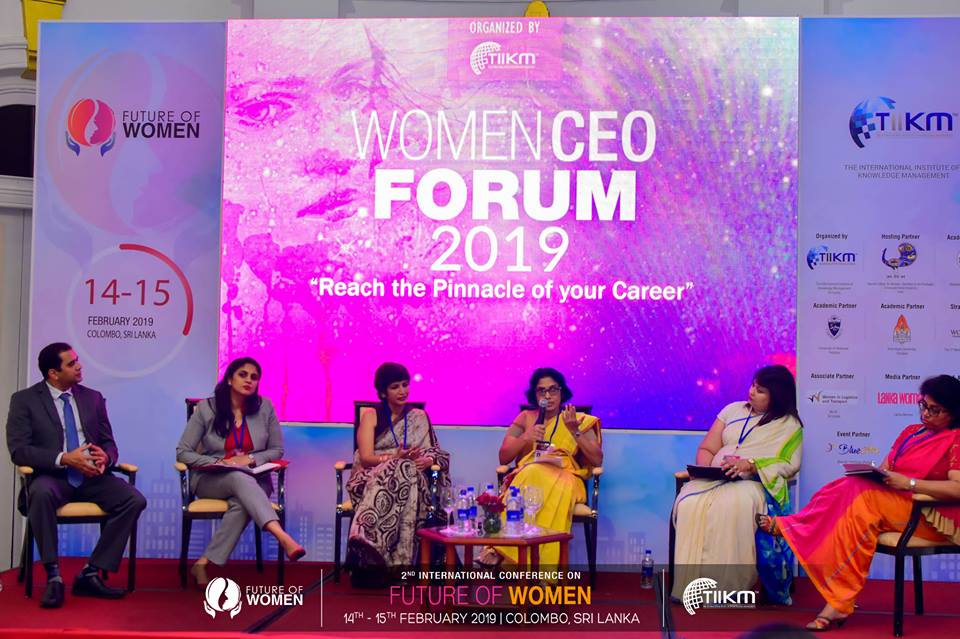 The 2nd International Conference on 'Future of Women 2019', organized by the International Institute of Knowledge Management (TIIKM) was successfully held on the 14th and 15th February 2019 at Taj Samudra Hotel, Colombo, Sri Lanka. The Conference was carried out under the theme "Voices of Women: Transition from Inspiration to Action" with the participation of 97 forum presenters and other interested parties from 12 countries.
The conference aimed at bringing the voices of women together to push for social, economic and political reforms and thereby set the move towards gender inclusivity, diversity, and equality. It became a fertile ground for researchers, academics, and industry players to meet and deliberate on current issues faced by women both locally and globally. This was also an opportunity for budding researchers to hone their skills and establish networks with profound academics and other stakeholders in the field.
The Conference Chair, Prof. Anita Singh (Centre for Women's Studies and Development, Banaras Hindu University, India), in which she highlighted the thematic importance of the conference: Voices of Women: Transition from Inspiration to Action. In her speech,  she highlighted the gender inequality in the world of an economy where the nature of their work is often termed as 'shallow economy'. It is ladled in such away because it is said that their contribution is limited to domestic and other subsistent functions.
The Conference comprised of nine (09) technical sessions where researchers from twelve countries
shared their findings and knowledge. The technical sessions are listed below.
1. Glass Ceiling and Sticky Floors
2. Gender Equality and Empowerment 1
3. Under-Representation / Misrepresentation of Women in the Media and Movies 1
4. Women in Health, Economy and Power
5. Migration, Displacement, Environment, Human Rights and Women
6. Gender-Based Violence, Human Trafficking
7. Education, Training and Institutional Mechanism for the Advancement of Women
8. Under-Representation / Misrepresentation of Women in the Media and Movies 2
9. Gender Equality and Empowerment 2
Two special forums were held during the conference: Business Woman Forum 2019, moderated by Mr. Lakshaman Bandaranayake, Chairman, Sarvodaya SEEDS and Woman CEO Forum 2019, moderated by Ms. Gayani De Alwis, Chairperson Chartered Institute of Logistics & Transport (CILT) & Board Member WCIC.
Businesswomen Forum 2019 
Businesswomen Forum 2019 was moderated by Mr. Lakshaman Bandaranayake (Chairman – Sarvodaya SEEDS, Sri Lanka). Titled "Women Entrepreneurship and Economic Development", the forum deliberated on various challenges faced by women entrepreneurs and ways to surmount them when building their careers and businesses.
Woman CEO Forum 
The forum had a unique combination of industry players and academia to discuss their approaches, perceived successes and failures, and strategies for the future of women with special reference to the field of business. In conclusion, the moderator, Gayani De Alwis observed that diversity in leadership is important to the success of an organization. Thus, she highlighted the role of human resource management saying, "The HR department has to look harder to find suitable female candidates to fill leadership positions in organizations".
Conference closure and Awarding 
All the Session Chairs and Evaluation Panel Members were given tokens of appreciation in the presence of the Conference Chair, Prof. Anita Singh, TIIKM Co-Founder-Chairman-&-CEO, Mr. Oshadee-Withanawasam and TIIKM, Assistant General Manager, Mr. Duminda Koralagamage. It was followed by the distribution of participatory certificates for all presenters. Ultimately, the distribution of awards for outstanding presenters in their respective sessions took place.
Conference website: futurewomenconference.com
Find the full Conference Report written by Dilshani Kariyawasam, Freelance Reporter & Researcher, Sri Lanka, Conference Rapporteur,  Future Women Conference 2019 in below link.