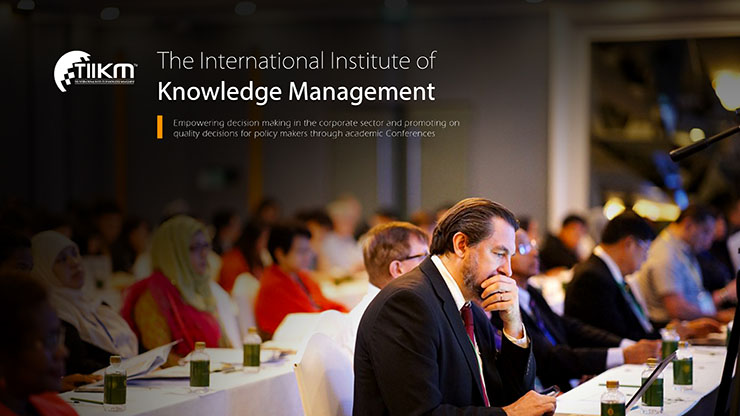 The International Institute of Knowledge Management (TIIKM) is one of Asia's largest and leading Academic Conference organizing and a publishing institute that operates in the Knowledge Management industry. TIIKM has built its reputation with Conferences of supreme quality that cater to the development of an individual's career in opposition to the typical Conferences organized across the World at present. Here are 12 reasons to choose TIIKM conferences as your career development platform.
1. TIIKM Conferences – Designed for your Career Development
All TIIKM Conferences are designed with an underlying objective of developing the careers of the Conference participants. TIIKM always ensures they deliver a service of superior quality by offering a Conference that is defined as a life changing event to those participants. Moreover, functioning in the capacity as an Annual Conference, the Conference is different each year providing a range of avenues for Knowledge enrichment. In this pursuit, there is an extensive amount of research performed, surveys performed and are evaluated to ensure the
Conference is up to date with the latest information in the field of study.
The resource persons at TIIKM conferences do not limit to delivering speech only but resemble more as resource persons and are involving in Career Development sessions, Workshops, Forums, Panel discussions, Evaluating presentations and personal mentoring at the Conferences.
Our technical sessions do not comprise of mere typical presentations but are evaluated by subject matter experts and constructive feedback and support is provided to the presenter and have the opportunity to be adjudged as the Session's Best Presenter and Best Overall Presenter. Further, workshops and forums organized by TIIKM are not just discussions but are designed to give the participants an exposure to solutions through practical knowledge. Our publications are of supreme standard when it comes to peer reviewed Publications. TIIKM conferences provide you the best networking spaces to network with hundreds of researchers to build your Career. We use the latest technologies to provide our participants better experience. You can join the sessions live and participate via recently introduced platforms only available in TIIKM conferences So, you will get more benefited opening up to thousands of platforms for your next chapter in life. Developing you is our main priority.
2. TIIKM Vision 'Revolutionizing the Asian Research Culture'
The world is evolving with the concept of 'Research and Innovations'. The International Institute of Knowledge management (TIIKM) is striving to promote knowledge-based culture in the Asian region with the support of the whole world and in turn the world is benefited as a whole.
The Vision of TIIKM is to develop Academic researchers to change research focus more into sustainable economic/social development, provide space for policymakers to utilize those researches for practical implementations to the betterment of the nation. Therefore, our Conferences are always composed with the participation of the research fraternity, the industry and the policy makers enabling them to receive more networking opportunities, ideas and constructive feedback from many stakeholders and a diversified audience.
Moreover, TIIKM conducts free workshops, seminars and discussions at many Universities in a number of countries with the support of the Conference resource persons to develop young researchers and professionals with the right attitude and skills. Also, research Scholarships program initiated by TIIKM helps thousands of researchers every year to present and publish their research findings, network with an international audience and develop their careers.
3. International Recognition
Over the past five years TIIKM has developed its International trust and now we have over 80 University affiliations and over 20 Government affiliations , over 20 NGO's and Association affiliations, Publishing Houses, Media and Industry partners, over 500 prominent figures representing the Academic fraternity and 3000 researchers have participated at TIIKM Conferences. These affiliations and network are in the form of Academic partners, Hosting and Organizing partners, Strategic partners, Sponsors, Media partners, Publication partners, Supporting Government Ministries, Keynote Speakers, Conference Chairs, Conference Scientific Committee, TIIKM governing body and advisors, Chief Editors and Editors etc.
The journey towards the successful accomplishment of realizing the Vision of TIIKM is readily achievable with the support extended by the resource persons and the affiliations.
4. Best Publication Options and Opportunities
Publication is one of the most important factors in the Career development of researchers and treating this as the core objective our trained team at TIIKM ensures best delivery on this aspect.
From inception, TIIKM provides high consideration on the quality of the research paper thus our Editors and Scientific reviewing committee are designed to provide you more insights to develop your paper to a better standard. Conference Scientific committee and Editors for the Conference Proceedings and TIIKM journals are highly experienced professionals in the field of study. Our reviewing process always ensures to maintain the Double Blind Peer Reviewing process.
All the accepted Abstracts are published with an ISBN number in the Book of Abstracts and all TIIKM publications have a DOI number, therefore your research is secured in the online platforms and moreover, we believe in OPEN ACCESS. All of our online publications are open access and we are closely working with the Open Journal Software (OJS). We do submit our journals and proceedings to major indexing sources such as the Thomson Reuters, Scopus and etc. and subject-specific indexing sources.
To educate on the importance of publishing and how to publish we arrange Publication workshops inside and outside of the Conferences to Researchers, Authors and Students. We always consider developing research ethics, scientific writing to develop the overall quality of the papers.
TIIKM publications closely work with a number of internationally peer reviewed journals and publishing houses majority of which are open access and free of charge. We ensure the best quality papers to be published in the reputed partnering journals. TIIKM publishing will be your next research destination.
5. Conferences with Best Resource Persons
One of the significant difference in TIIKM conferences is 'Resource persons'. We spend thousands of Dollars to bring the best resource persons to the Conference because we believe exceptional service could be delivered by exceptional people in the field of study. As TIIKM Conferences are designed for your development we select our resource persons to moderate workshops, as speakers for the Forum, as members of the Evaluation panel, as Conference chairs, as members of the scientific reviewing committee etc.
More than just speakers at the Conference we create interactive sessions, informal discussions and some special event with them for the participants to get more support and assistance to build one's career.
6. Trusted by Thousands – Benefited by Millions
There were over 15000 participants who have attended TIIKM conferences during the last five years. More than 20000 publications done through TIIKM and nearly 1 million reads are recorded for those research articles and Abstracts. We published Conference reports and findings in many National and International Media and submitted all the reports and publications to many Academic bodies, Libraries, Indexing sources and etc. TIIKM Facebook page and other social media platforms have more than a million reach per month. These platforms are used to disseminate information which is vital in achieving Sustainable Development Goals (SDG's).
TIIKM has one of the largest Academic networks that reap benefits to many Universities, Institutes, Organizations, Researchers, Policymakers, the Corporate sector, Students, Publishers and many other on a day to day basis.
7. History of High-quality Conferences
TIIKM Conferences was established as a Professional Knowledge Management Institute in the year 2013. After the initiation, we were able to deliver Conferences of superior quality and publication avenues to the researchers across the world. We were able to set the standards in the industry and emerged as a challenge to the peer competitors. We are open with our past conferences reports and details. You can check our past reports, testimonials, Social media pages and identify our growth from the inception.
8. Best reviews and recognition
We have the highest Facebook reviews when compared with the other organizations in the industry. Moreover, we are open to review. We provide high concerns about our stakeholders as we firmly believe their interests is of huge importance. We welcome your suggestions, opinions and critics to improve and develop towards providing exceptional service through our Conferences. You can view our Customer Feedback, Reviews and testimonials from our Facebook, Google and YouTube platforms.
Moreover, we have received recommendations from world-renowned Scientists and Experts. (Prof. A. Parsuraman, Prof. Swaminathan, Prof. C.
N.R. Rao, Prof. Attah Ur Rahaman, Prof. Serigius Koku, Prof. Albert Tacon, Prof. Rohana Subasinghe, Prof. Diana J. Fox and many more)
9. Quality and experienced Conference Organizing Committee
TIIKM have the most talented professionals in the Conference organizing industry. They possess qualifications in a variety of subjects and are working closely with many stakeholders such as Universities, Government organizations, Resource persons and the Corporate to provide a great Conference experience to all our participants.
We have a qualified team of professionals for Publications, Reviewing and Editorial support, Conference Planning and Development, Research Support and a team for International Networking. On the other hand, TIIKM governing body supports to maintain the overall quality of the Conferences with new concepts and innovations which are suitable to the current changing world.
Since TIIKM members are working with relevant experts on the field our Conferences are rich with technical content inside of the Conference and are trained to deliver the best service at the Conference. Our Conference Program, materials, food and beverages, networking spaces, entertaining spaces and academic richness is far above than many other conferences in the world.
10. Academic, Industry and policymakers collaboration
TIIKM Conferences comprises of an Academics, Policymakers and the Corporates to provide a best fit for practical implementation of the solutions discussed at the Conference. This composition and the program will benefit the Conference attendees with the desired value for money and time invested. From the commencement, we work with all the three parties to build a Conference that will address the needs of all these sectors ensuring there will be more opportunities for the participants representing the academia, Government and the Corporate sector. That collaboration makes our conferences the best platform to be a part since our participants are open to avenues for more knowledge with a blend of perspectives.
11. Certification awards
TIIKM Conferences conclude with an Awarding ceremony that is designed to value the participation of the participants and also award the Session's best presentations and two special awards for the Overall Student Presenter and the Overall presenter with medals and certificates. The Award winners will be eligible for benefits under the 'Achievers' program initiated by TIIKM to recognize the contribution by the researchers. The Awards and the Certificates are awarded with the endorsement of the supporting Ministries and Universities and it is a great opportunity for the Researchers and Students to lift your career to the next level.
12. "BACK TO SOCIETY"
We develop all our services to make the world a better place. We are aligned with Sustainable Development Goals (SDGs) and TIIKM always ensures it is met adequately through its Conferences. We believe knowledge as the solution for all the issues we have right now. If knowledge can be developed for the betterment of the world addressing issues timely and that knowledge is accessible and can be shared, we believe the world will become a better place.
So, TIIKM believes in open access knowledge sharing, open access publication, helping the research community and in developing the world. Therefore, our publications are open access, we make Conference reports are exposed to the public, we share our resource persons, keynote videos, we maintain a good scholarship program to help researchers and knowledge seekers to develop their Career, we work on Women Rights, eliminating Poverty, Developing Economies of the world, ensuring Environmental protection, controlling Climate Change, promoting social harmony, addressing gender issues, focusing on Public Health etc. So, we believe our 'Back to Society' value is significant and we will engage more in the time to come in every single activity of ours because we value YOU!
Prepared by
Duminda Koralagamage – Duminda0728@gmail.com
Arshad Refai – Arshad.refai@tiikmedu.com