10 Key Highlights of MEDCOM 2019
|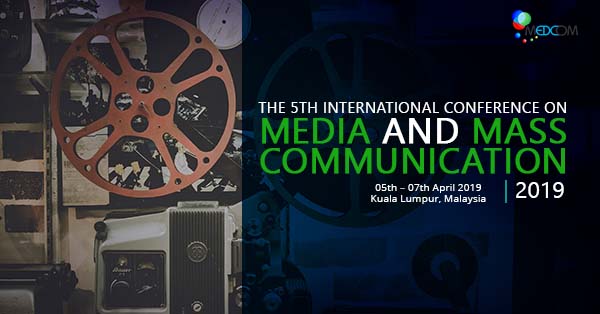 10 Key Highlights of MEDCOM 2019
There are hundreds of conferences to talk about Media and Mass communication but out of all, we figured World Conference on Media and Mass Communication (MEDCOM 2019) is the best one happening at Asian Contest. So we are Discussing 10 key highlights about this Media and Mass communication conference which is scheduled on 5th – 7th April 2019 in Kuala Lumpur, Malaysia.
Best Publishing opportunities
MEDCOM 2019 offers you best publication opportunities free of charge. There are several journals which are indexed in Thomson Reuters, Scopus and other major indexing's are partnering with the conference and the good news is those are free of publishing charge. All you need to do is writing a great article according to your research. Also, authors can publish their papers in the conference proceedings free of charge. The conference proceeding has ISSN and DOI (crossref) and published online open access. They also saying proceedings may index in Google Scholar and other major indexings including Scopus.
With the guaranteed double-blind reviewing process and truly international scientific committee, we believe your paper will be published with world class quality.
Journals – Government Information Quarterly
                    The International Journal of Cultural Policy
Career Development workshops
MEDCOM has two Career development workshops which are designed to develop and uplift the participant's knowledge, experience and positive attitude.
The PUBLICATION WORKSHOP called "How to get published" will be a great platform to all the participants to enrich their research publishing knowledge. The workshop Resource Person is Dr. Fida Sanjakdar from Monash University Australia. She is one of the most renowned personals in publication and research works.
The Second workshop called Chair workshop specially developed to develop young researchers will be conducted by the Conference chair of world conference on media and mass Communication Dr. Andrea Volterrani, University of Rome Tor Vergata, Italy.
Great Speeches from World Renowned
This year's Media and mass communication conference has world-renowned speakers on board and that speeches and insights will give a conference a big value. Sean Gardner, the Forbes #1 Social Media Power Influencer, USA and Prof. Datuk Dr Ahmad Rafi Bin Mohamed Eshaq, President / Professor, Multimedia University, Malaysia deliver the main two key speeches while three other valuable plenary speeches.
Experience sharing with Industry leaders
The conference is consisting of life experience sharing sessions of best media personalities of the world. Those experience sharing sessions will make your life experienced and knowledgeable. You can easily stand out from the rest with that knowledge and experiences. Conference Keynote speakers Sean Gardner, the Forbes #1 Social Media Power Influencer, USA and Prof. Datuk Dr Ahmad Rafi Bin Mohamed Eshaq, President / Professor, Multimedia University, Malaysia also share their experiences.
Storytelling, Documentaries and life experience sharing
There is a whole day session of lifetime works of scientists and it includes several Success Stories, Projects, Narrative, Documentary, Animation, Music Video and Virtual Reality/Interactives of their works. This is the first time in Asia we have seen this type of session which matching with world standards.
World Famous scientific committee
The world conference on Media and Mass communication has a renowned scientific committee. Those scientists represent a different part of the world including Asia, Europe, Africa, America and Australia. The abstracts and full papers will be evaluated and helpful feedbacks will provide by this world-class scientific committee. Furthermore, we need to highlight the variety of expertise areas of the scientific committee which will help to review the wide scope of research articles.
Constructive feedbacks and development plans
MEDCOM conference organizers work hard to find a great scientific committee and a great knowledgeable evaluation panel for the conference. Both Scientific committee and evaluation committees will give all the researchers a valuable fed backs for the abstracts and also for the presentations. Research presenters can get constructive feedbacks at presenting time and even after the presentation over.
Most international platform
The world conference on Media and Mass communication will be filled with many researchers, policymakers, practitioners, activists, Media units and many interest parties more than 20 countries. So we believe this truly international and diversified platform can change the life of all the participants in a better way.
Networking opportunities with fun
Not only research sharing and discussions MEDCOM will offer you a more relaxing atmosphere to leisurely network with peer colleagues across the world. With the finest food, luxury accommodations at the great venue of MEDCOM your stay of three days will be more relaxing and fruitful. Moreover, it will be a great experience of a traditional cultural show at the first-day evening dinner of the conference which is free for all participants. Post-conference tours other dinners and lunches are great opportunities to grab in this 2019.
Proven history of as Quality conference
MEDCOM or The world conference on Media and Mass communication has passed 4 years history with great reviews and testimonials by world-renowned personals. Also, this year's conference hosted by Universiti Teknologi MARA, Malaysia and University of Rome Tor Vergata, Italy. It is organized by The International Institute of Knowledge Management (TIIKM), Sri Lanka in collaboration with Universitas Atma Jaya Yogyakarta, Indonesia, Dhurakij Pundit University, Thailand, Petra Christian University, Indonesia and University of Zululand, South Africa. So all the partners work together for making this conference a greater success. You log in to organizers social media pages, YouTube and conference history pages to know more about past conferences, photos, testimonials, key speeches and even past publications.
We believe your career will be more developed with MEDCOM 2019 and we wish you could make it to the conference this year.
website: https://mediaconference.co/