Edith Cowan University is Partnering with GLOBEHEAL 2023
|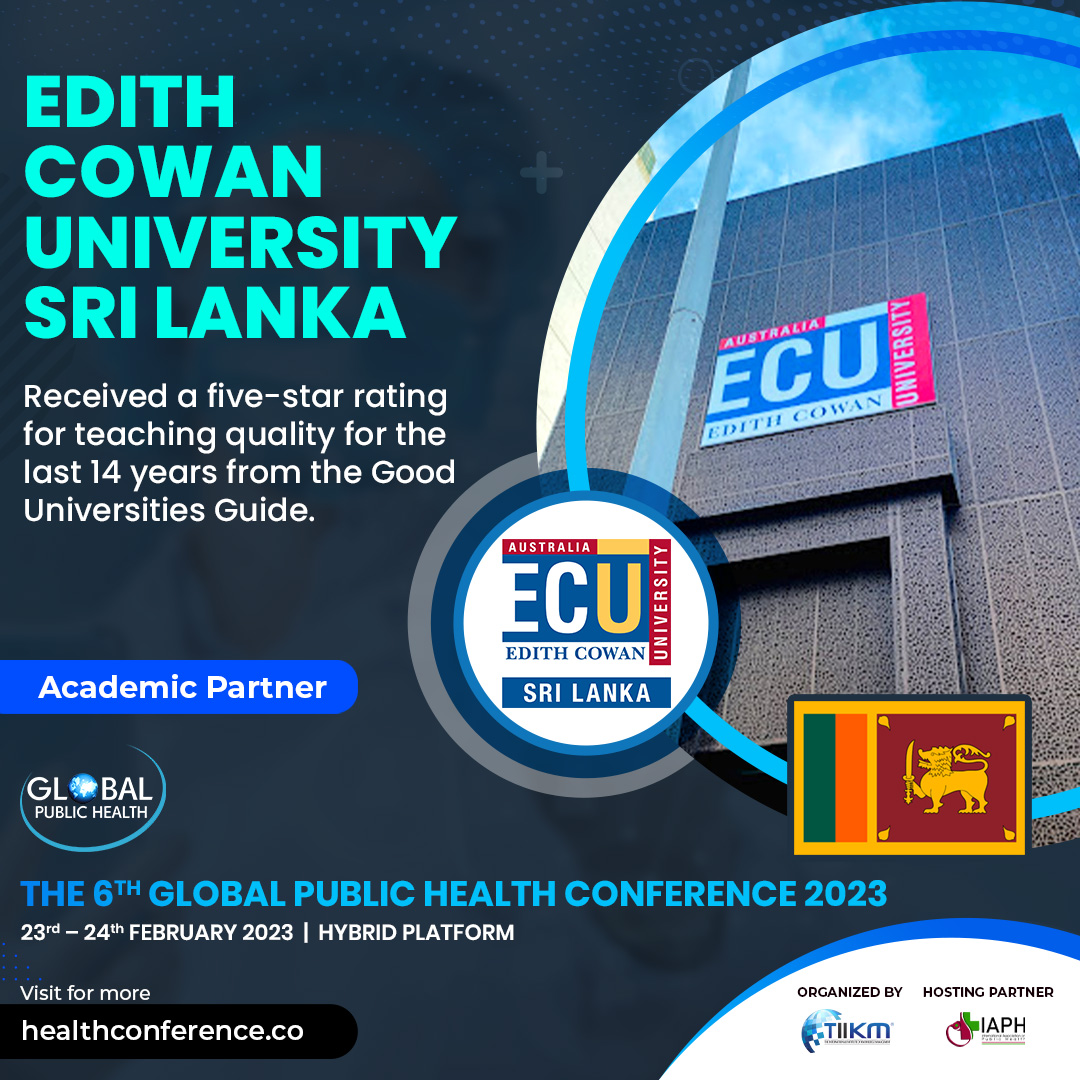 The 6th Global Public Health Conference 2023 (GLOBEHEAL 2023) which will be held from 23rd – 24th February 2023, has collaborated with Edith Cowan University, Sri Lanka as an Academic Partner.
Edith Cowan University (ECU) was Established in 1991 and founded when a union of teacher colleges dating back as far as 1902 came together to form Western Australia's first higher education institution. The university gets its name from Edith Dircksey Cowan OBE, the first woman to be elected to Australian Parliament.
Edith Cowan believed strongly in education as the key to growth and improvement, and tirelessly campaigned for the rights of women, families, and the poorly educated, including raising funds for students to attend university. She was instrumental in getting women in Western Australia the right to vote.
Her passion for social justice and education led to not only her name being taken for the newly formed university. To this date, she is the only female with an Australian university named after her.
ECU's values are closely tied to Cowan's social contribution, as we pride ourselves on producing highly-skilled and passionate graduates who go on to make a real difference in their communities. Today, ECU has more than 31,000 undergraduate and postgraduate students, with a large international student cohort from more than 100 different countries around the world.
Our eight schools collectively deliver more than 220 courses across Arts & Humanities, Business & Law, Education, Engineering, Medical & Health Sciences, Nursing & Midwifery, Science and the Western Australian Academy of Performing Arts.
Courses are offered on our campuses in Western Australia and at the Colombo Campus in Sri Lanka. We also offer a comprehensive suite of online study options, and have partnerships with international education institutions to deliver and facilitate ECU courses and programs.
ECU Colombo is one of the only universities in Sri Lanka where you can obtain an international degree. Whether you choose to study your qualification in Sri Lanka or transition from first-year studies to your second year in Australia, ECU offers a seamless pathway to completing your degree and enjoying a truly global experience.
We've received a five-star rating for teaching quality for the last 14 years from the Good Universities Guide. ECU courses are developed in close consultation with industry to give students both theoretical knowledge and hands-on learning that will enable them to excel in their studies and future careers. Our supportive study environment and industry-relevant teaching ensure that students are fully equipped to solve real-world problems and succeed in life after university.