The Success Story of the 4th International Conference on Gender and Sexuality 2021
|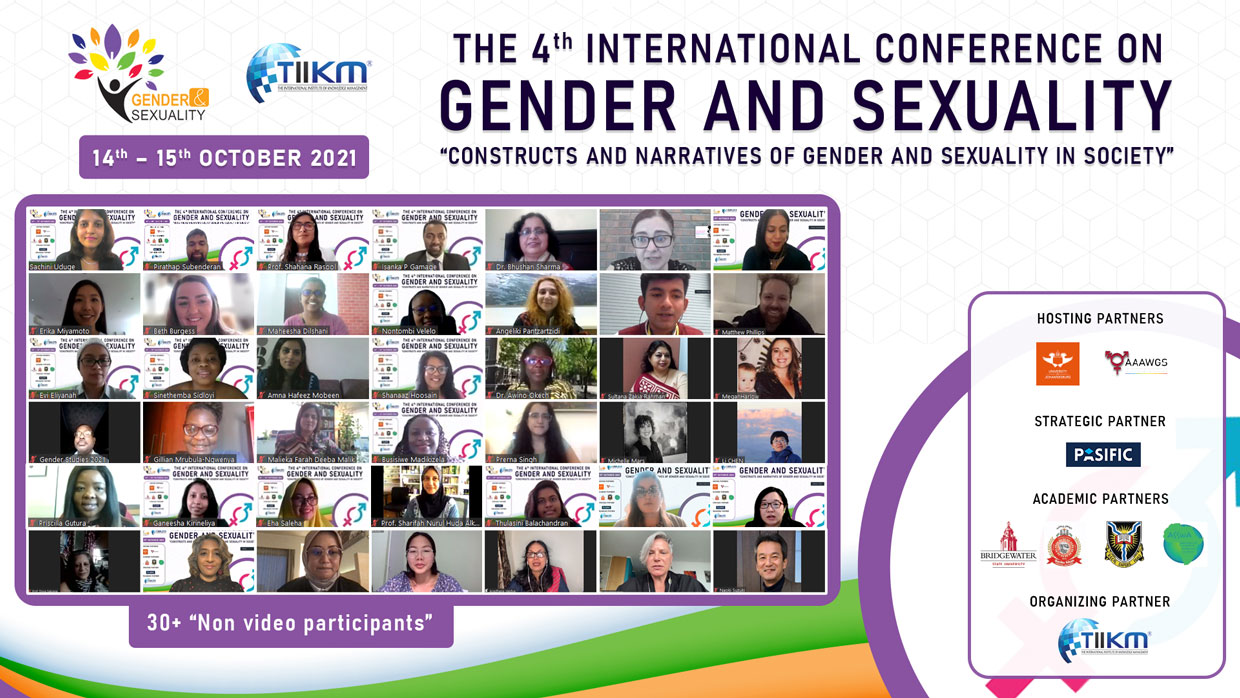 THE SUCCESS STORY OF THE 4TH INTERNATIONAL CONFERENCE ON GENDER AND SEXUALITY 2021
The 4th International Conference on Gender and Sexuality 2021 was successfully concluded on the 14th and 15th October 2021 in Virtual Platform under the theme "Constructs and Narratives of Gender and Sexuality in Society". The conference was organized by The International Institute of Knowledge Management (TIIKM) and Asian-African Association for Women, Gender and Sexuality with the collaboration of the University of Johannesburg in South Africa, Bridgewater University in United States, Bacha Khan University in Pakistan, Gender Studies Programmed of the Institute of African Studies, University of Ibadan, Nigeria, PASIFIC Postdoctoral Fellowships Programmed by Polish Academy of Sciences.
The conference provided an opportunity for delegates to share their valuable knowledge and experience in Gender Studies 2021 from various perspectives. Moreover, the conference welcomed 70+ Participants from 20+ Countries around the world, including South Africa, United Kingdom, Australia, India, Pakistan, Greece, Sri Lanka, United States, Japan, Republic of Trinidad and Tobago, Hong Kong, Malaysia, Indonesia, Zimbabwe, and Spain.
Gender Studies 2021 comprised of Thirteen (13) Technical Sessions, Interactive Workshops, World Renowned Keynote Forum, and Networking Sessions. The conference had representation from every continent and regions across the world, to share views and ideas on Gender Studies, Sexuality, network with international colleagues and made the conference a meaning the full opportunity for engagement.
The Overall Best Presenters of Gender Studies 2021 Conference were announced in the Awarding Ceremony and they were:
Prerna Singh (SHARP NGO, India)
Matthew Phillips (Curtin University, Australia)
Dr. Michelle Mars (Torrens University, Australia)
Susan Holland-Muter (University of the Western Cape, South Africa)
Dr. Evi Eliyanah (Universitas Negeri Malang, Indonesia)
Ntandoyenkosi Maphosa (University of Johannesburg, South Africa)
Overall, Gender Studies 2021 Conference concluded in a very successful note. Even though the Conference was fully virtual, all the participants had the opportunity to network, share knowledge, and excel in their research career. The 5th International Conference on the Gender and Sexuality 2022 is scheduled to be held in 13th – 14th October 2022 in Colombo, Sri Lanka.
We welcome you to Join Gender and Sexuality 2022!!!
For more details visit our official website https://genderconference.com/