TYPES OF "ACCESS" IN JOURNAL PUBLICATIONS: DID YOU KNOW?
|
TYPES OF "ACCESS" IN JOURNAL PUBLICATIONS: DID YOU KNOW?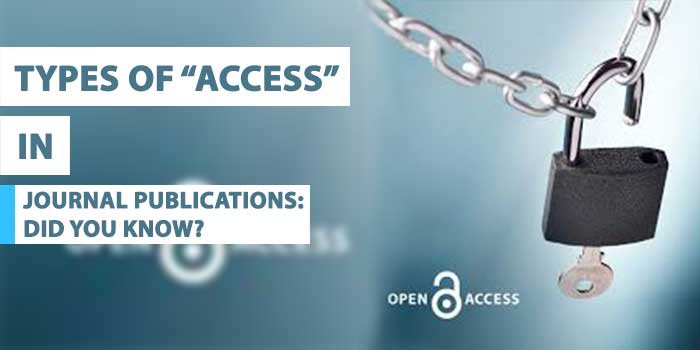 The ultimate fruit of a researcher's effort is publishing his or her valuable work in a reputed journal. To get through the desk review and then the peer-review, the paper submitted should be of expected quality. After successful publication, another major concern of authors is to see citations going up for his/her paper. More the readers cite, more the authors are happy and advance.
By now, a large number of online academic journals are available for authors to publish. However, there are different type of "Access Options" offered by the journals which authors can choose. These access options also affect the rate of citations in a way. "Access" in this case means the "Access for a paper published by readers". Let us talk about different access options and how each works.
     01.Closed Access
This access option is available in hybrid journals where both open and closed access publications can be done. Closed access is where only the abstract of a particular research paper is accessible to the readership. Thus, if readers need to read the entire article, they require to subscribe to the journal (After making a payment for subscription). Author incurs no cost, but citations will be limited as many readers cannot see the full text.
     02.Open Access
2.1 Gold Open Access
Under gold open access, a published article (full article) will be readily available on a journal's website just after publication. This exposes an article to all readers free of charge which also means the rate of citations would be high. The author or author's funding agency will pay a publication charge to obtain this benefit. Many permission barriers are taken away under this access option.
2.2 Green Open Access or Self Archiving
Green Open access allows the author's paper to be archived in a repository. However, in Gold Open Access, the copyright remains with the author and here copyright remains with the publisher/affiliated society. Under this access option, the permission barriers are not removed up to the extent that Gold Open Access offers.
Knowledge on these access options will help authors select the best option that they prefer. Usually, the Article Processing Charges of high indexed journals are quite high. If your funding agency or University is funding the publication charges, you have the opportunity to publish under open access. Thereby you can expose your work to a wider audience. However, with hybrid journals, you still have the opportunity to publish your work without any charge.
Choose the right journal by reading on the access options available on journal websites!
Bibliography
What is Open Access? www.springer.com. (2020). Retrieved 17 January 2021, from https://www.springer.com/gp/authors-editors/authorandreviewertutorials/open-access/what-is-open-access/10286522.
Written by
Yasodara Pemarathne
Email: yasodara@tiikm.com