Al Bayan University Academic Partnering with ICOPH 2023
|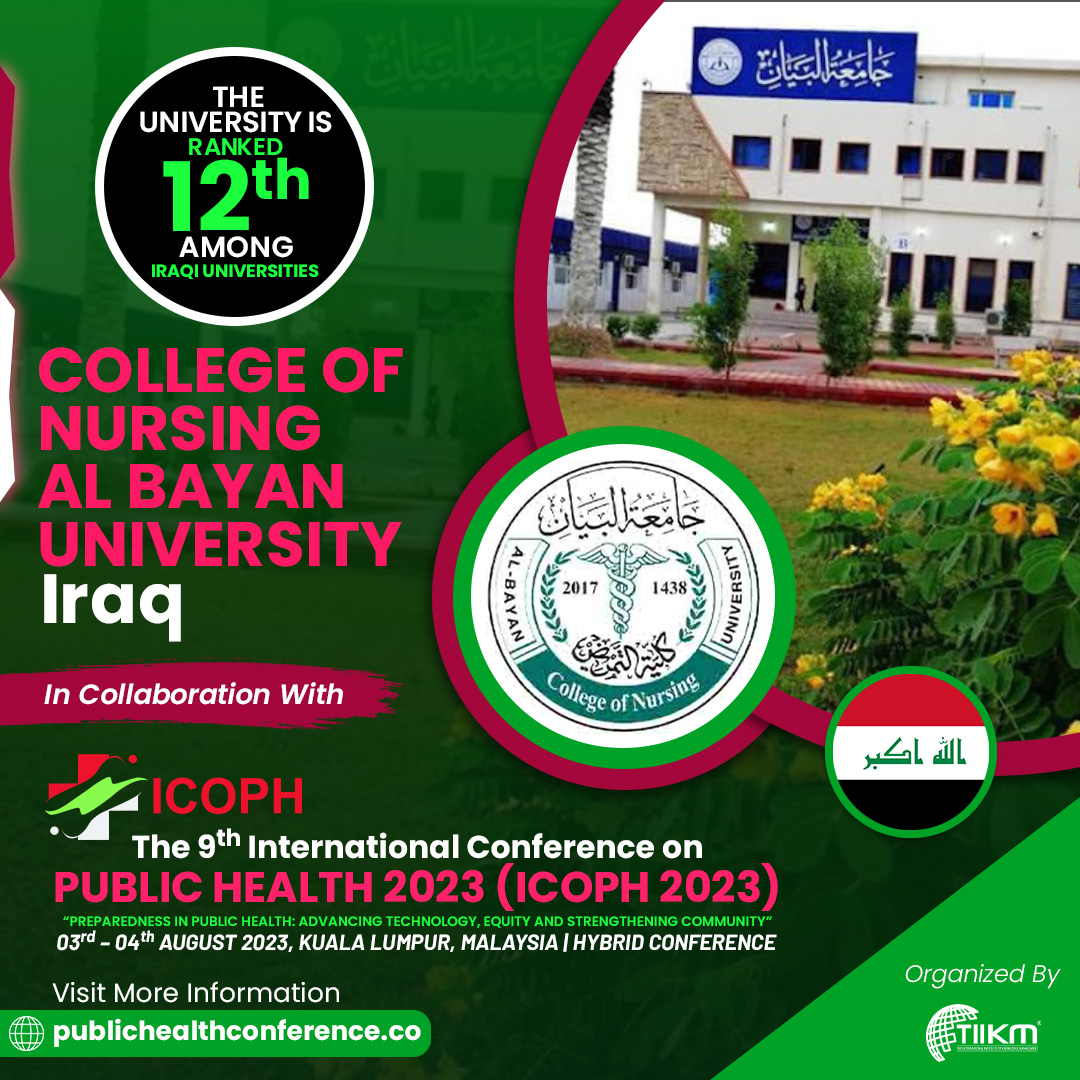 The 09th International Conference on Public Health 2023 (ICOPH 2023) which will be held from 03rd – 04th August 2023, has collaborated with Al Bayan University, Iraq as an Academic Partner.
The university's vision is to focus on core values ​​and core purposes. The core values ​​of high educational quality in the knowledge fields of the university are endowed with inspiration, creativity, and social responsibility at the national and global levels. As for the essential purposes, they are: knowledge and technology participation in the progress and well-being of society, and the establishment of contemporary knowledge in these areas.
Al-Bayan University has emerged to be a scientific edifice with a modern vision, adopting scientific and technological communication with sober and international universities, to be a basis for it and a firm curriculum to parallel in that sober and ancient universities, so it took steps The pace has been accelerating and steadily since its establishment in 2016 to be an active element and a productive participant in internal and external scientific forums with the participation of its professors with their various scientific titles. As a result, the university entered the international rankings and obtained national and international awards from accredited scientific centres.
The university believes in the principle of universities supporting the community and the labour market and according to the needs of the majors. Therefore, the university was established with four colleges in 2016, which are (the College of Health and Medical Technologies / the Department of Pathological Analyses, the College of Pharmacy and the College of Business Administration with its two departments, Business Administration and Accounting, and the College of Law, then in 2017 the College of Nursing and the College of Dentistry were established. And in 2021, the College of Engineering Technology established the Department of Medical Device Technology Engineering.
The university strives to develop its scientific standing among universities through continuous follow-up of its position in international applications and striving to advance it in this field and upgrade it by working to sign memorandums of understanding and scientific cooperation with international universities.
Source Link: https://albayan.edu.iq/
Register Today & Reserve your slot!
For More Information: https://publichealthconference.co/