Delhi School Of Public Health, Institute Of Eminence Academic Partnering with ICOPH 2023
|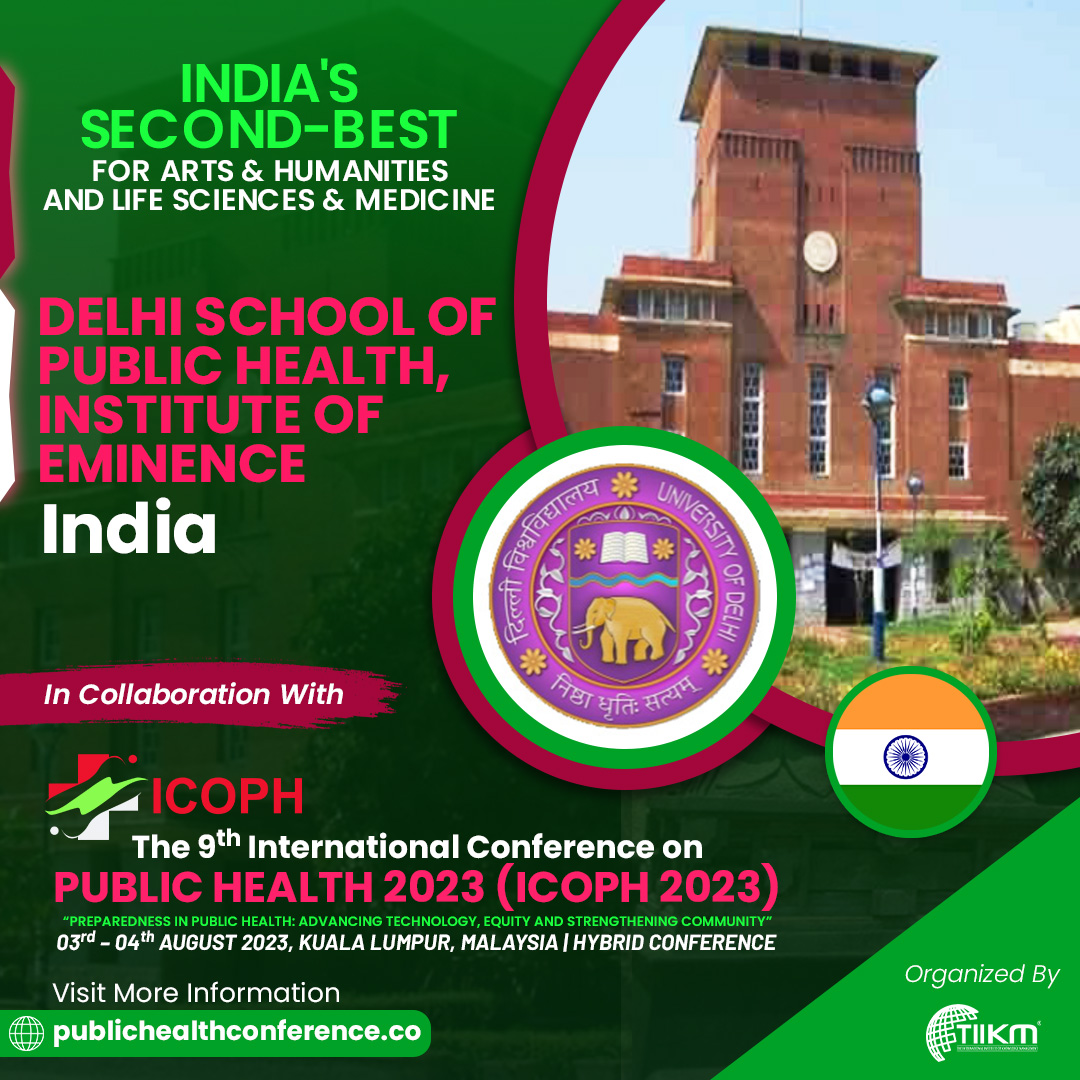 The 09th International Conference on Public Health 2023 (ICOPH 2023) which will be held from 03rd – 04th August 2023, Delhi School Of Public Health, Institute Of Eminence, India as an Academic Partner.
Delhi School of Public Health (DSPH) proposes an interdisciplinary centre of learning comprising of diverse, untouched, gap-areas in Public Health with the purpose to develop wellness, well-being strategies and technologies underpinned by social relevance and based on principles of quality and equity. DSPH proposes research in intertwined disciplines of Public Health with Science, Technology and Policy with the aim of proposing such course programs that enable learning outcomes with direct impact on community health. Concomitantly, DSPH would undertake collaborative programmes with university academic Departments and Centres to meet demands of changing health science research and strengthen interdisciplinary research in key areas of public health in the country.
And also, Delhi School of Public Health (DSPH) is an umbrella institution dedicated to the study and training in the area of public health by encompassing scientific, technological and policy dimensions in an integrated manner. DSPH intends to build on the expertise across Science, Medicine and Social Sciences faculties in the University to meet its stated objectives. DSPH is aimed at becoming the premier institution by achieving a global standard in teaching/ research/ outreach programmes. The primary aim of DSPH would be to conduct cutting-edge research, creation of bio-medical technologies and delivering customized products for the industry and social good.
Source Link: http://www.ioe.du.ac.in/delhi-school-of-public-health/
Register Today & Reserve your slot!
For More Information: https://publichealthconference.co/