Future Education Conference 2021
|
BLOG – FUTURE EDUCATION CONFERENCE 2021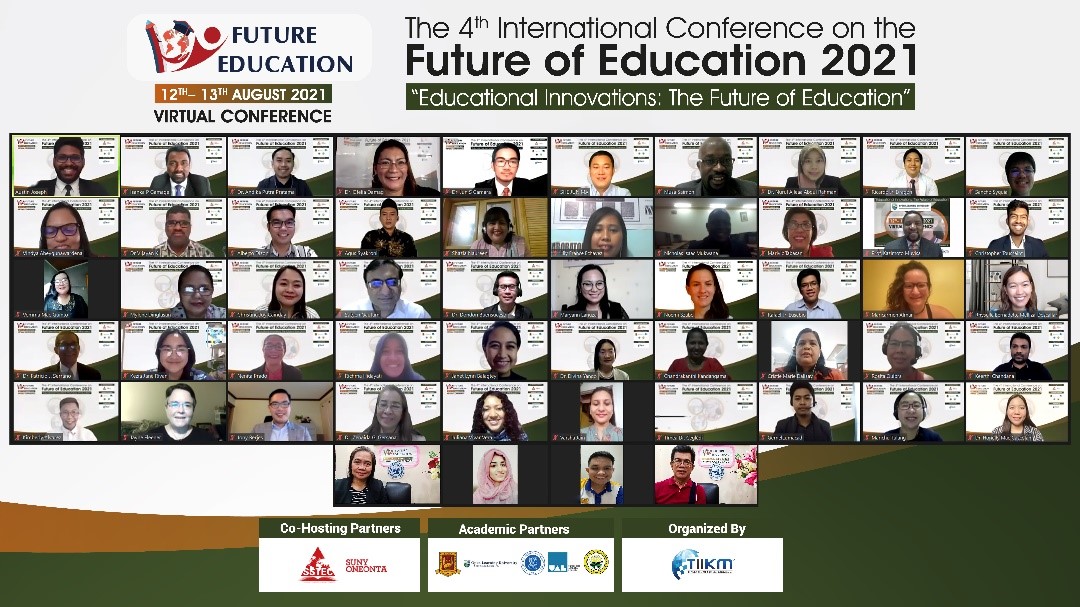 Taking part of an international conference always plays an integrative role in one's life so one should appreciate of being part of a valuable community. My conference attendance was really special and challenging as my current financial status could not make it possible for me to participate but the great conference- and organizing team supported me to achieve my dream. Firstly, my special thanks go to the to Mr. Kushantha Deshan (Executive Manager TIIKM) and Mr. Keerthi Chandana (Conference Secretariat) who have made great efforts in order to present my research at this prestigious, international conference. Secondly, let me express my sincerest gratitude to the whole Organizing Committee of Future of Education 2021 involved in this process.  I would like to share my experience and impressions about this wonderful community-creating event.
On Day 1, Inauguration Ceremony was taken place at the Main Hall which involved several welcome speeches by the patrons, conference partners and sponsors of the Future Education Conference. The first talk was held by the conference Chair, Dr. Brian D. Beitzel (State University of New York College at Oneonta, United States). Mr. Isanka P Gamage (Sri Lanka) talked about the possible sponsorship and support by the TIIKM as he is the cofounder and manager of the TIIKM. The third and fourth presenters were Dr. Andika Putra Pratama and Dr. Zenaida G. Gersana who delivered speeches under the aegis of the conference partnerships. Then, a group picture was taken by the conference organizers which serves as a great start into the 2-days-event. Technical sessions were followed by the photo session which were placed at the Main Hall and Hall. Two sessions were taken place side by side in case of each technical sessions. The first main field entitled by Health Education meanwhile the second session belongs to the area of Mathematics and Education. I attended the track "Health Education" where I listened to interesting talks about motivation, psychological issues, problems in higher education, job satisfaction and knowledge sharing. I was fascinated by the first presentation (given by Dr. Nenita Prado) which focused on motivation, psychological dilemma and anxiety. On the first day (12th August), two keynote speeches were planned to be introduced but only one talk could be delivered by Prof. Muyisa Paluku Kazimoto due to illness. He gave a talk about the educational challenges and innovations what he perceived at the Open Learning University (Democratic Republic of Congo).  Kazimoto highlighted the essence of being a good educator that can serve as a motto for everyone: "Don't aim to become the best educator but aim to make a difference by becoming an educator."
Then, individual presentations were given by the conference participants in the frame of the next technical sessions. I have chosen Educational Technology session in the afternoon. My favourite talk as given by Balagtey JIM, Parcasio IG, Colinang DCL, Likigan LB and their presentation title was Digital Literacy Test for Teachers. Furthermore, one workshop was held by Dr. Brian Beitzel which was entitled by "Evidence-Based Strategies for Improving Learning" to widen participants' horizon about learning strategies.
On Day 2, my presentation was involved amongst the first technical session. The time zone seemed to be a challenging factor but I managed to overcome this hardship and I loved to present my topic. My research study was multilingual language assessment in a Hungarian primary school. It was a great pleasure to deliver my talk in front of a prestigious and highly international audience. I was fascinated by the feedbacks and questions what I received by the participants. I was curious about the parallel session where my Hungarian peers participated with their research from University of Debrecen but I couldn't manage to listen to them. From the morning until the workshop, technical sessions made the last day of the conference more colourful, as well.  On the second day, I was highly interested in the workshop on Quantitative Statistical Methods guided by Prof. Dizon as my dissertation will be based on using quantitative tools and analysis.  At the end of the second day, the organizer committee announced the result of the Most Popular Social Media Persons of the Future Edu 2021 who were Chrstine Geroy (Philippines) and Kimberly B. (Philippines). Moreover, they announced the Best Poster Presenter of the Conference who was Wenlin Cheng.  The Best Overall Presenters were Prof. Nenita Prado, Dr. Juliana Vivar Vera, Rina Lorraine D. Cagas, Musa Saimon, Dr. Suzanne Maniss, Ricardo G. Dragon (Jr), Edwin Byusa.
The two-day-conference offered a great opportunity to mingle with like-minded people during the Networking sessions on both days. Moreover, the conference provided the possibility to gain insight into researchers' work who came from interdisciplinary fields of education, like mathematics, psychology, teaching and learning, educational perspectives, higher education studies. More than 86 participants from more than 25 countries took part in the 4th International Conference: Future of Education 2021 in order to present their research to the curious audience.
Written by
Szabó Noémi
English and German Teacher Training MA, UP
PhD Student, Multilingualism Doctoral School, University of Pannonia
Hungary