The Success Story of 7th International Conference on Public Health 2021
|
The Success Story of 7th International Conference on Public Health 2021
The 7th International Conference on Public Health 2021 (ICOPH 2021) was successfully concluded on 04th – 05th August 2021 in Virtual Platform under the theme "Driving Innovations in Healthcare, Strengthening Health Systems: Addressing Covid 19 Pandemic". The conference was organized by The International Institute of Knowledge Management (TIIKM), Sri Lanka in collaboration with Taylor's University, Malaysia, University of Brawijaya, University of Chile, Universitas Hasanuddin, Udayana University, Universidad Santo Tomás, Colombia, Sam Ratulangi University, The State Islamic University of Sunan Kalijaga and Ivy Child International, USA.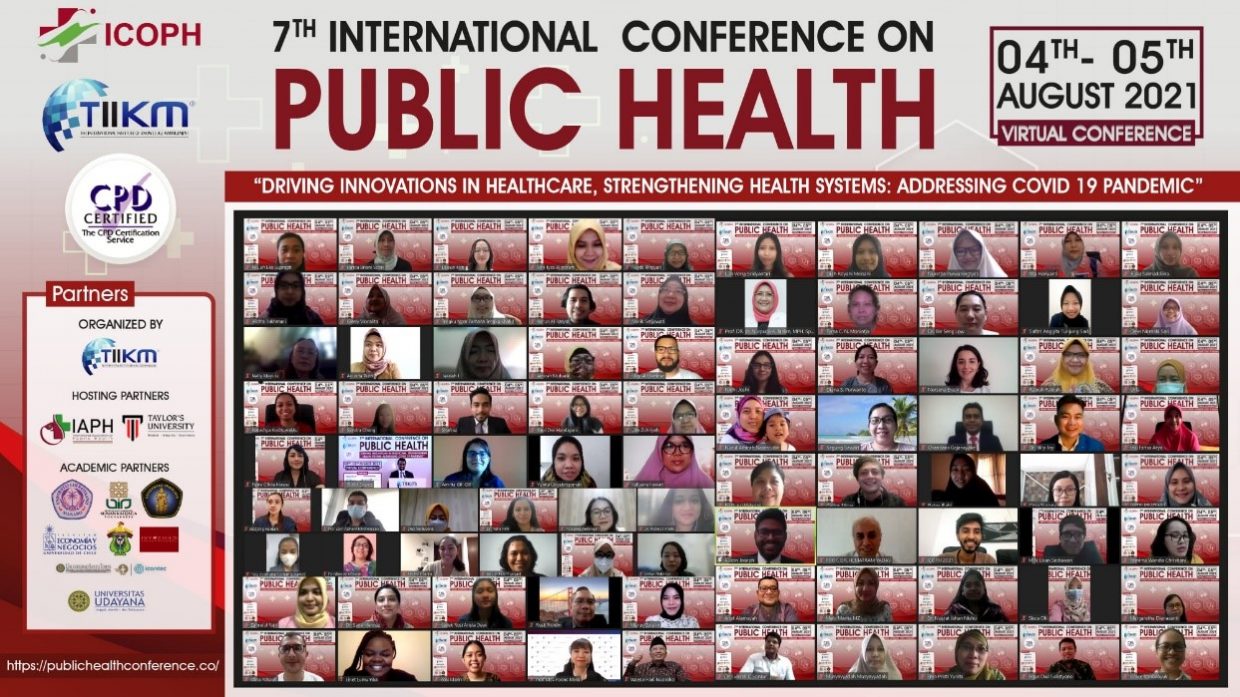 The conference provided an opportunity for delegates to share their valuable knowledge and experience in Public Health from various perspectives.  Moreover, the conference welcomed 200+ Participants from 35+ Countries around the world, including Albania, Bulgaria, Chile, Colombia, Czech, Egypt, England, Germany, India, Indonesia, Iran, Ireland, Israel, Japan, Malaysia, Nigeria, Pakistan, Palestine, Philippines, Portugal, Saudi Arabia, Spain, Sri Lanka, Taiwan, Tanzania, Thailand, Turkey, Ukraine, United Kingdom, and United States.
ICOPH 2021 comprised of Twenty Five (25) Technical Sessions, Poster Sessions, Interactive Workshops, and Networking Sessions. The conference had representation from every continent and regions across the world, to share views and ideas on Public Health, network with international colleagues and made the conference a meaning the full opportunity for engagement.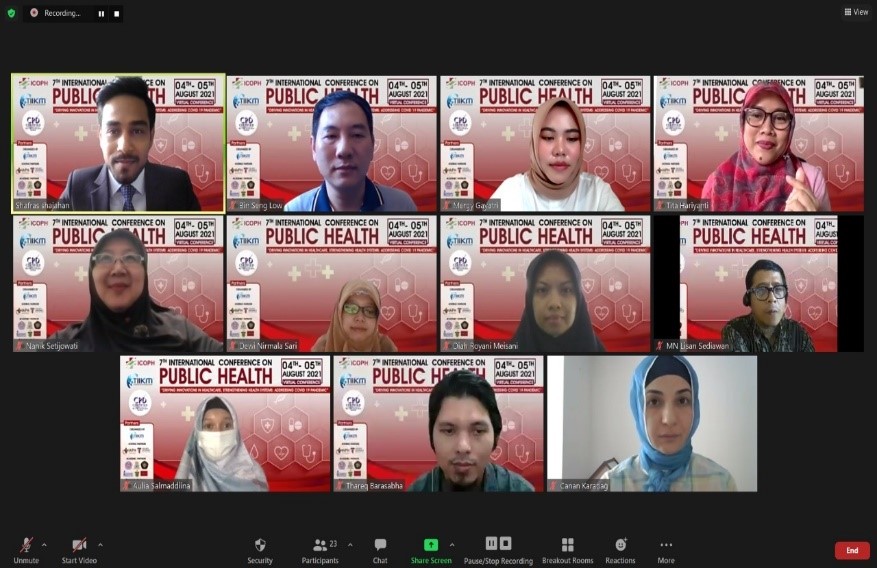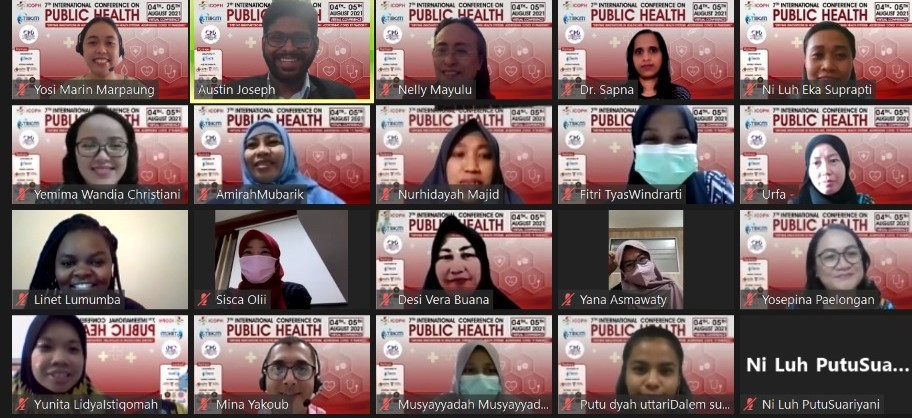 The Overall Best Presenters and the Best Poster Presenter of ICOPH 2021 Conference were announced in the Awarding Ceremony and they were: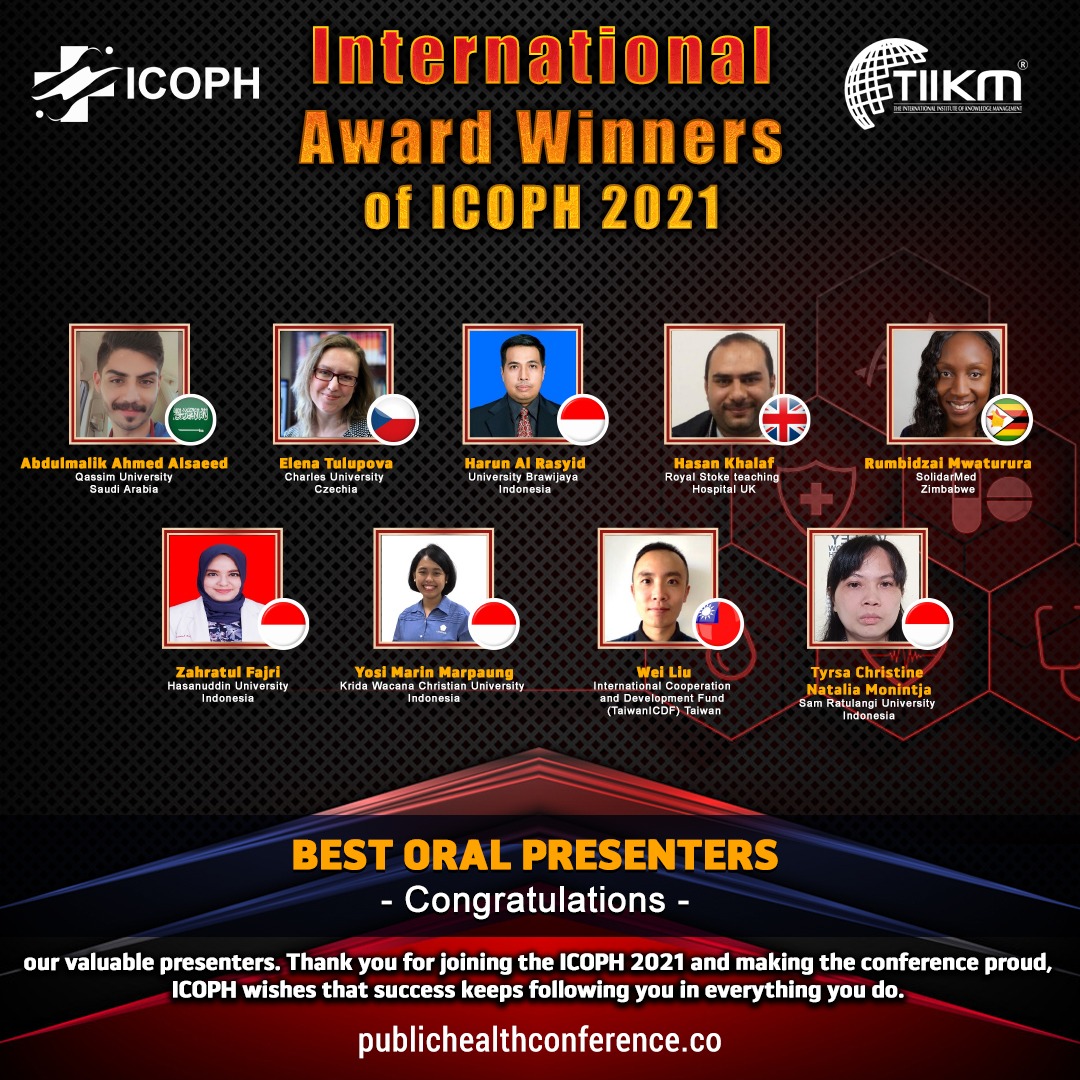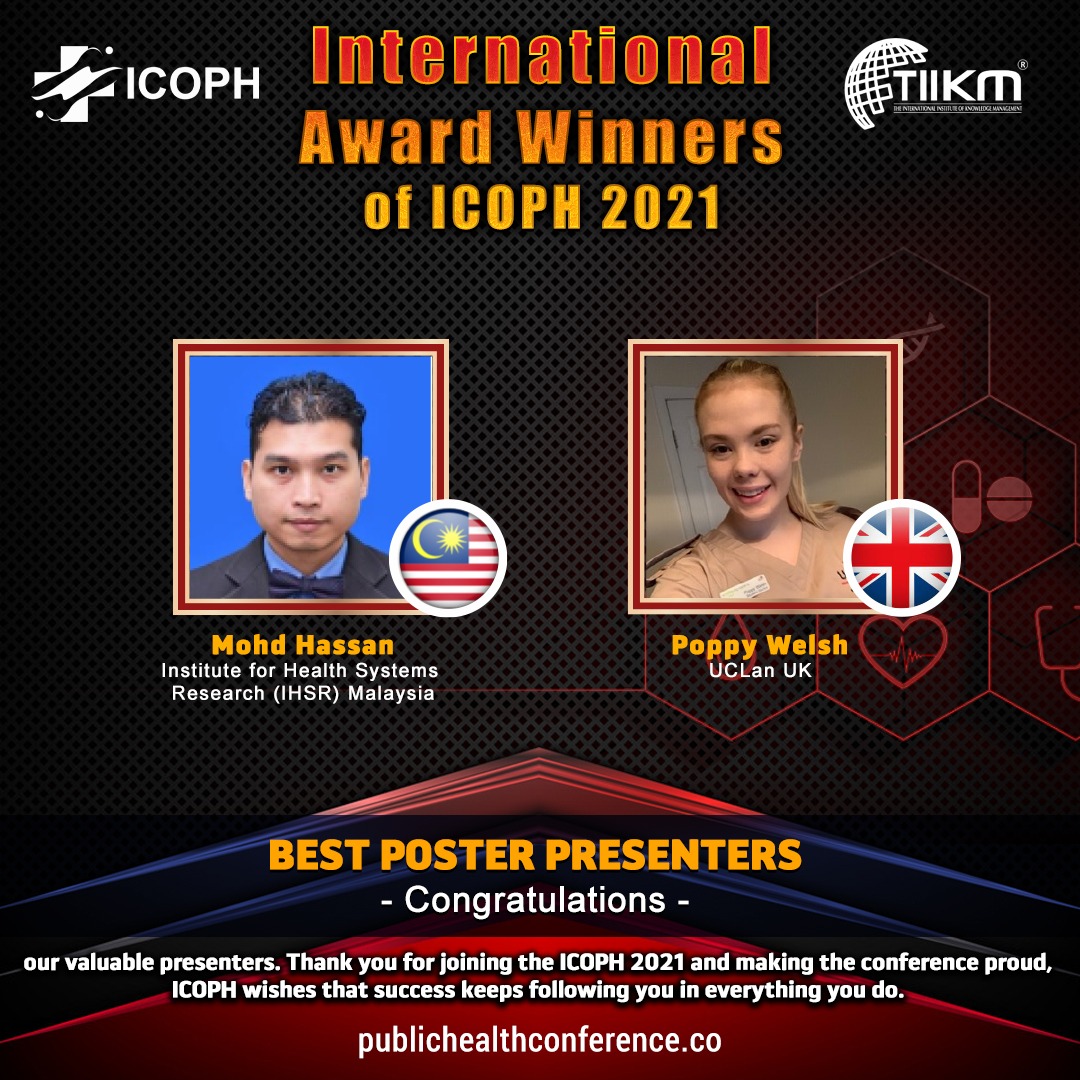 Harun Al Rasyid from from Indonesia

Rumbidzai Mwaturura from Zimbabwe

Hasan Khalaf from United Kingdom

Wei Liu from Taiwan

Yosi Marin Marpaung from Indonesia

Zahratul Fajri from Indonesia

Elena Tulupova from Czechia

Abdulmalik A. Alsaeed from Saudi Arabia

Nor Zam Azihan Mohd Hassan from Malaysia

Poppy Welsh from United Kingdom

Monintja TCN from Indonesia
ICOPH 2021 Conference had the opportunity to recognize 'The Most Popular Social Media Persons' of ICOPH 2021 Conference by their active presence in Social Media and they were:
Mousa Al-Atary from Palestine
Mariana Larios from Colombia
Overall, ICOPH 2021 Conference concluded in a very successful note. Even though the Conference was fully virtual, all the participants had the opportunity to network, share knowledge, and excel in their research career. The 8th International Conference on the Public Health 2022 (ICOPH 2022) is scheduled to be held in 28th – 30th July 2022 in Colombo, Sri Lanka.