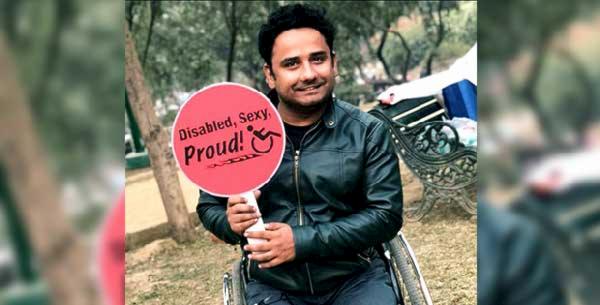 Success Story of Faisal
---
I was waiting for my school to take me to the world of friends and freedom. At the element of surprise there was sudden dawn of realization that the School won't give me admission because the school believed having a wheelchair student might affect their daily routines. To challenge this pre-conceived notion my inspiration, my mother stood by me until I got the admission. And I realized that the struggle has started! Born with a congenital disability I knew Life is uneven. School playground on which my passion for sports died a slow death. May be my accessibility was curtailed because of inaccessible public pavements but deep down I knew that knowledge had flexible pathways for my connect with the world which was left to be explored.
I always believed that aiming high will lead you to the next best if not the best. One of the pathos of my life was that I could never settle for less. When my brother offered to get me a modified scooty to continue my studies I denied. I denied for the sake of getting a modified Motorbike because that is what my personality demanded. That is what would make me think that I am more of a so called normal guy studying in college and bunking classes at my own desire. This kick started my passion for motorbike.
I was famous and I was known in my locality because of my new bike but I always wondered what was happening with the rest of the disabled people in the world. Were they fighting the way I was? Did they have a supportive parents the way I Had? With these in mind I became a post graduate with a master degree in Social exclusion and Inclusive Policy from Jamia University in the year 2013, and I was ready to hit the world employability.
The first day of a new job can be a nerve racking for anyone there's always a risk when moving jobs, but when you are disabled there's another layer of risk: Will my CV get turned down because of my disability?
And soon in 2013 I got my first job with Chintan Environmental Research and Action Group. I knew I have to give my best and I did. For the next two and half year I didn't let my inaccessible office snag my career goals. Next was a journey with one of leading Aviation Company of India, IndiGo. My stay at indigo gave me access to the most inspiring mates of my life Ria Gupta and Deepak, well versed and well connected with the outside world. Living with an acquired disability both of them knew exactly what they have to do in their life. The fact that it was not just me who had the disability and there were many who had acquired their disability and had accepted it as a challenge to prove themselves to the world, forced me to explore the world of disabled people and to understand their situation and connect as many as I could. Now it was the time to rediscover myself through the eyes of Cheshire Home Delhi. My journey with Cheshire Home exposed me to several truth and myths attached with Disability. The faster I got to know about these the sooner was able build the objective of my life and I knew exactly then that I want to speak about disability and aware as many people could.
Accessibility was always an issue and the difficulty of access can even mean missing out on a social life. Every social invitation required calling the venue to find out about accessibility and then to explaining the host why I can't come. Lack of accessibility was one of the major snags which restricted my access to several places and opportunities.
While Cheshire Home was giving me a platform to explore my hidden talent in various fields the boost to my motivation came when I won gold medal in Wheelchair racing in a tournament sponsored by Paralympics Committee of Delhi. My life was getting aligned with my thoughts and I loved doing what I was doing until I realized that after 8 years of faithfulness my freedom rider, my bike had ditched me.
In 2016 I suffered a major scare when the side wheel of my bike broke off. I decided to stop riding the bike and discussed the problem with Tigmanshu Bhatnagar, who was then guest faculty at the Indian Institute of Technology Delhi-department of design. Tigmanshu is deeply invested in assistive technologies and has designed a device for people with spastic quadriplegia. We realised that a lot of disabled people are using a very dangerous system and that there was no solution.
We came up with an idea of a reverse trike, a motorbike with two wheels in the front. These are a common sight in the United States.
We took an old bike(boxer) and customised it. The attempt was successful. The bike was stable and looked good. Then we decided to modify another bike, an Apache RTR, a TVS model. This looked really good, offered great stability and safety and attracted a lot of attention when we took it out.
Me and Tigmanshu displayed the bike at the Red Brick Summit at the Indian Institute of Management, Ahmadabad in Sept-2018. The bike attracted much excitement with people asking questions about the launch. GWL stands for Glad Wheel Life and 01 is because this is the first bike we have designed.
The drawback with current retrofitted bikes is they are not engineered properly. A lot of adaptations are made to bring the motorcycle gear to the hand. These adaptations make the bike stand out and highlight the user as a disabled person who needs special attention. It devalues the excitement and pride of owning a bike and this kind of stigmatization is widely prevalent in India. Me and Tigmanshu were also clear that to make a break into the auto market we needed to come up with a product that people with and without disabilities could use. We did a pan-India survey among disabled people about available retrofitted bikes. "91% said they were not happy with what is available and want something new.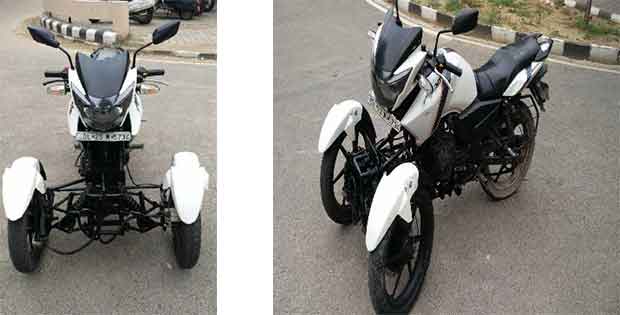 This is where my passion for bikes came back and gave birth to Glad Wheels Life. With time I kept moving ahead and now I was with V-Shesh Learning Services through which I was able to give visibility to several persons with disability by supporting them to get the employment. I go home every day with a satisfaction that Yes now they will lead a much better life. Thanks to v-shesh and my work I am nationally and internationally known as job providers which sunshine my identity.
Recently I presented my story as a storyteller in world disability and rehabilitation conference-2019 Bangkok Thailand. And also displayed our reverse trike (motorbike) in Tie Global summit Taj Palace Nov-19 and received an amazing response from hundreds of people.
I believe there are two Faisal, one who is trying build on his passion for bikes through Glad wheel life and one who is connecting with several others and trying to make his surrounding a better and accessible place  for Person with Disability so that the difficulties I faced as a 90 kid won't be faced by others.
I am glad that I took my disability as a challenge and kept moving with a motive to achieve something in life but unfortunately there are so many kids across the world that are really struggling socially because of their disability. Disability remains a stigma that nobody wants to talk about. There's still a negative notion that being born with disability is preternatural, unlucky. For the people with disability who lacks confidence, its embellishment proves to be hard for them to get over the societal created notions to accomplish the unaccomplished. It restricts everything that they want to achieve.
As a society I believe we need to change our perception of disability away from the idea of being sympathetic towards empathetic. There needs to be a platform where the idea of disability is spoken loud and proud.
Moving forward we need to mainstream disability. Get Person with Disability into our mainstream media and that will increase the visibility in a positive light. We need to make disability heaps more commonplaces. We need to start the conversations which will go long way in normalizing it. Then who knows? May be one day, kids like me as I used to be won't be going through such a tough time. They won't be embarrassed about their disability ever again. They will have the confidence to go out in the world and do whatever they want. Because living life with a disability shouldn't prevent one from living life to its complete potentials.
Thank You