The Success Story of the 8th International Conference on Arts and Humanities (ICOAH) 2021
|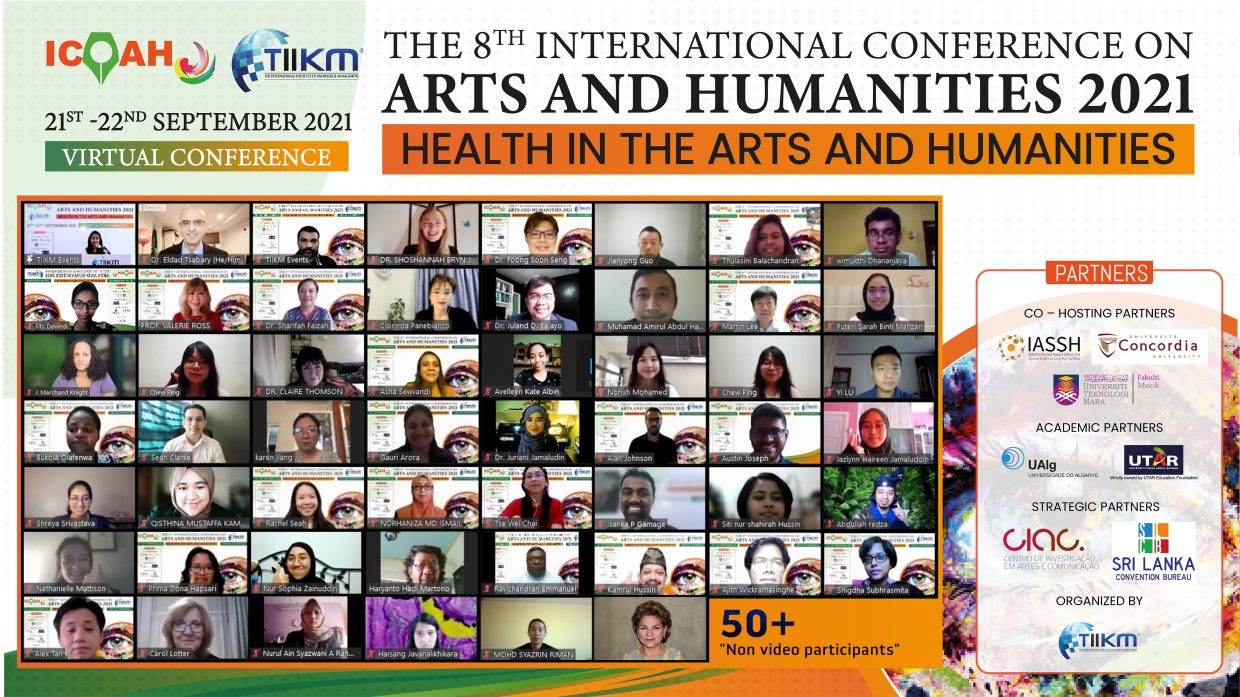 The 8th International Conference on Arts and Humanities (ICOAH) 2021 was successfully concluded on 21st – 22nd September 2021 in Virtual Platform under the theme "HEALTH IN THE ARTS AND HUMANITIES". The conference was organized by The International Institute of Knowledge Management (TIIKM), Sri Lanka in collaboration with the Faculty of Fine Arts, Concordia University, Faculty of Music, Universiti Teknologi MARA, Malaysia as the co-hosting partners, Faculty of Human and Social Sciences, University of Algarve, Portugal, Universiti Tunku Abdul Rahman, Malaysia, as academic partners and CIAC Research Center, Portugal, Sri Lanka Convention Bureau as strategic partners.
The conference provided an opportunity for delegates to share their valuable knowledge and experience in Art and Humanity field from various perspectives.  Moreover, the conference welcomed 100+ Participants from 25+ Countries around the world, including the Philippines, Spain, Canada, Malaysia, Australia, Indonesia, Sri Lanka, India, South Africa, Singapore, UAE, United States, China, Portugal, Taiwan, United Kingdom, Vietnam, and Thailand.
ICOAH 2021 comprised of Ten (10) Technical Sessions, a Keynote forum, Plenary speeches Interactive Workshops, Storytelling Sessions, and Networking & Cultural Sessions including a Digital Solo Art Show, A Live Coding, and Soundscape Performance. The conference had representation from every continent and region across the world, to share views and ideas on ICOAH, network with international colleagues, and made the conference a meaningful the full opportunity for engagement.
The Overall Best Presenters of ICOAH 2021 Conference were announced in the Awarding Ceremony and they were:
Haisang Javanalikhikara, Chulalongkorn University, Thailand
Clarke S., The Maharshi University of Spirituality, India
Thulasini B, University Tunku Abdul Rahman,Malaysia
Juriani Jamaludin, Universiti Teknologi MARA, Malaysia
Clorinda Panebianco, University of Pretoria, South Africa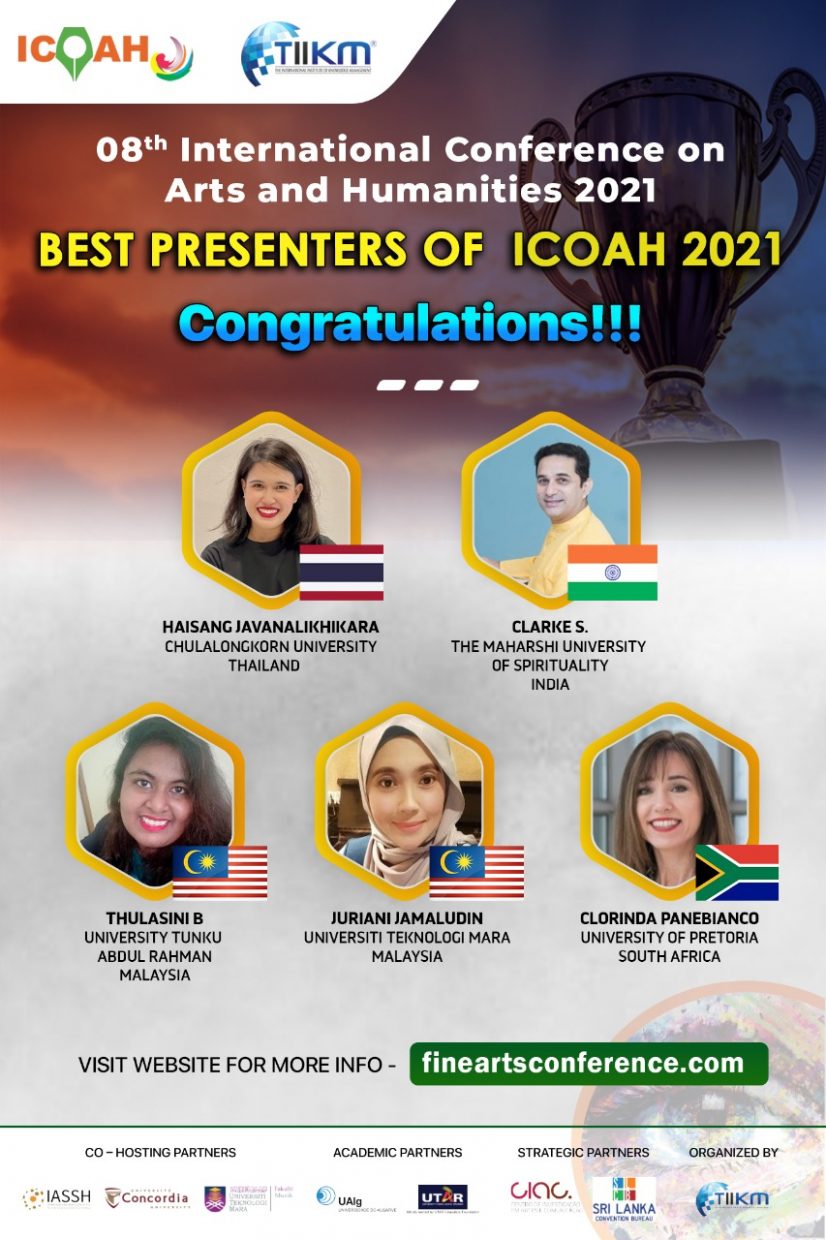 ICOAH 2021 Conference had the opportunity to recognize 'The Most Popular Social Media Persons' of ICOAH 2021 Conference by their active presence in Social Media and they were:
Wimukthi Dhananjaya, Rajarata University of Sri Lanka, Sri Lanka
Olafenwa B. R, University of Ile-Ife,Nigeria
Lee, Caritas Institute of Higher Education, Hong Kong
Nethaniëlle Mattison, University of Pretoria, South Africa
Thulasini B, University Tunku Abdul Rahman, Malaysia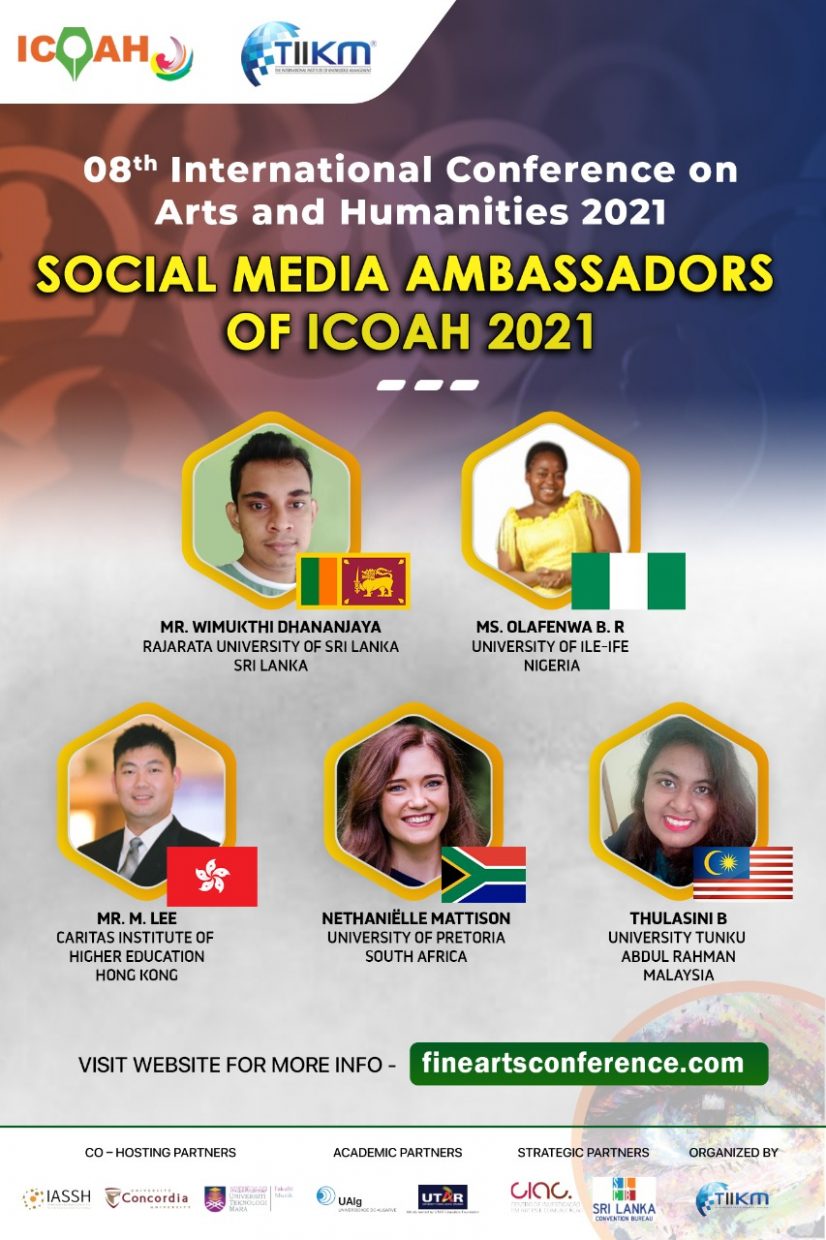 Overall, ICOAH 2021 Conference concluded on a very successful note. Even though the Conference was fully virtual, all the participants had the opportunity to network, share knowledge, and excel in their research careers. The 9th International Conference on Arts and Humanities (ICOAH) 2022 is scheduled to be held on 15th – 16th September 2022 in Colombo, Sri Lanka.
We welcome you to Join ICOAH 2022!!!
For more details visit our official website https://fineartsconference.com/