THE SUCCESS STORY OF THE WORLD CONFERENCE ON SCHOLARLY PUBLISHING 2022 (WCSP 2022)
|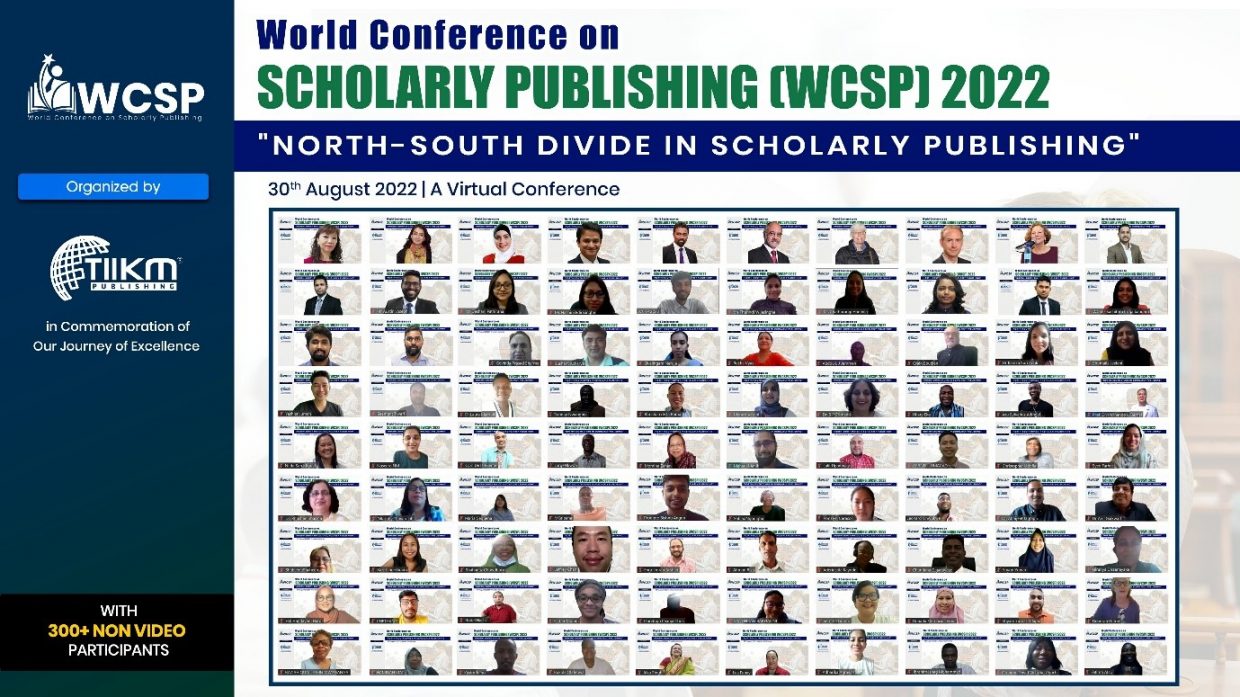 The World Conference on Scholarly Publishing 2022 (WCSP 2022) was held on 30th of August 2022 in Virtual Platform under the theme "North – South Divide in Scholarly Publishing." The conference was organized by TIIKM Publishing which is the official publishing arm of The International Institute of Knowledge Management (TIIKM), Sri Lanka.
The conference united diverse researchers, scholars, and academicians from all over the world, while offering many networking opportunities. Moreover, the conference welcomed 380+ Academicians, Researchers, Scholars, Activists and Professionals from 52 𝐝𝐢𝐟𝐟𝐞𝐫𝐞𝐧𝐭 𝐜𝐨𝐮𝐧𝐭𝐫𝐢𝐞𝐬 across the globe, including Sri Lanka, Pakistan, Afghanistan, Philippines, Turkey, Indonesia, Nigeria, Iraq, Morocco, Taiwan, Kenya, India, Liberia, Malaysia, South Africa, United States, Australia, Bangladesh, Austria, Nepal, Ghana, Rwanda, Uganda, United Arab Emirates, United Kingdom, Mozambique, Zimbabwe, Bhutan, Mauritius, Sudan, Ethiopia, Cameroon, Algeria, China, Portugal, Italy, Spain, Lebanon, Timor-Leste, Vietnam, Trinidad and Tobago, Gambia, Tanzania, Germany,  Myanmar, New Zealand, France, Saudi Arabia, Ukraine, Botswana, Russia, Canada.

The opening remarks of WCSP 2022 were made by the Conference Co-Chair, Mr. Isanka P. Gamage (Co-Founder & Managing Director – The International Institute of Knowledge Management (TIIKM), Sri Lanka), and the Conference Co-Chair, Prof. Niaz Asadullah (Professor Faculty of Business, Monash University Malaysia, Malaysia).
As a remarkable moment of the conference, commemoration of the journey of TIIKM Publishing took place by launching its products and services to the world.
The first Keynote Speaker of the inauguration ceremony was Prof. Dr. Foong Ming Moy from the Department of Social & Preventive Medicine, University of Malaya, Malaysia. She delivered her Keynote Speech under the title "Tips on Getting Your Research Findings Published". The next Keynote Speaker was Prof. Crain Soudien, who was the former Deputy Vice-Chancellor, University of Cape Town (UCT), South Africa as well as the Former Chief Executive Officer of the Human Sciences Research Council, South Africa. He delivered his speech under the title "Speaking into the World: Insights and Lessons from 100 Years of South African Scholarly Publishing". The last Keynote Speech was under the title "Encouraging Quality and Equity in Publishing: An Editor's View". It was presented by Prof. Brian D. Fath from Towson University, USA.
WCSP 2022 comprised of three Publication related workshops. The first workshop was conducted by Dr. Jillian Lenné from UK, the Editor in Chief of Outlook on Agriculture. It was under the title "Developing Papers for Publication in an International Journal – Dos and Don'ts". Prof. Wesam B. Darawsheh from University of Jordan, Jordan delivered a workshop on the title "Special Issues and the Role of a Guest Editor: Giving Your Research a Voice". The final workshop of the conference was moderated by Prof. Melissa Steyn who was the South African National Research Chair in Critical Diversity Studies. Her workshop was under the title "Academic vs Creative Writing: Challenging the False Dichotomy".
There were 10 technical sessions at the WCSP 2022. The Technical Sessions were under the below titles:
COVID-19 and Scholarly Publications
Scholarly Publishing in Mozambique: Research Institutions, Researchers, Articles
Boost Your Academic Profile
Publishing in International Scientific Journals: Experience as Editor, Author, and Reviewer
We and Them: Predicaments in publication industry in special reference to Women's Issues
How Would We Track and Evaluate the Productivity of University Research, As Well As Policy Recommendations?
Things to Consider Submitting Your Paper to The Scopus Index Journal
The Establishment of Peer-Mentoring-Coaching-Collaborative-Program to Universities: The Case of Mbeya University of Science and Technology, Tanzania
Uniting The World by Words (North- South): International Research Collaborations Beyond the Barriers
Things to Consider When Submitting Your Paper to The Scopus Index Journal, and WOS
For more info click here: WCSP2022