Tshwane University of Technology Academic Partnering with ICCC 2024
|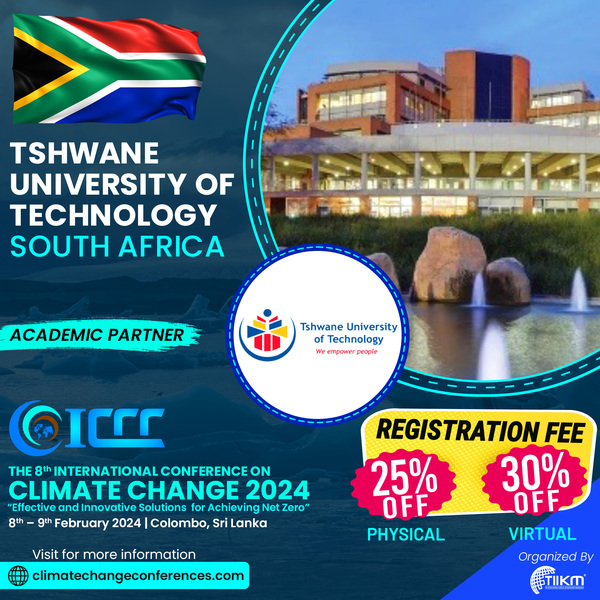 The 8th International Conference on Climate Change 2024 (ICCC 2024) which will be held from 8th to the 9th of February 2024 in Colombo, Sri Lanka (Hybrid Platform) ) has collaborated with Tshwane University of Technology, South Africa as an Academic Partner.
Established in 2004 through the consolidation of three Technikons, Tshwane University of Technology (TUT) emerged with a mission to rectify historical inequalities and extend educational access to all communities. Rapidly evolving, TUT has become South Africa's largest contact university in a short span, boasting seven faculties dedicated to science, engineering and technology, business and management, education, humanities, and the arts. TUT's global recognition is underscored by its inclusion in the top 1000 universities globally by Times Higher Education (THE) in 2018, with engineering programs securing a position within the top 300. THE further acknowledged TUT as the eighth-ranked university in South Africa. In 2017, University Ranking by Academic Performance (URAP) designated TUT as the premier University of Technology in Africa.
Positioning itself as a "people's university," TUT aligns its moral purpose with the aspirations of diverse communities. This commitment is enshrined in the outcomes of the 2017 Transformation Summit and the subsequent Transformation Framework, rooted in national, continental, and global developmental goals. TUT is a beacon of accessibility, especially for those on the fringes of society—both rural and urban—addressing the triple challenges of poverty, inequality, and unemployment. With a decolonial stance, the university's programs are designed to be liberating, fostering a continuum of creation, innovation, and technology transfer to serve community aspirations.
Grounded in the African philosophy of Ubuntu, TUT is more than an institution—it is a caring and compassionate university, a hub for ideation, intellectualism, and engaged scholarship. It stands as a catalyst for social change and transformation, embodying a commitment to the holistic development of individuals and communities. TUT's dedication extends beyond the conventional boundaries of academia. It seeks to break down the ivory towers by providing authentic and enduring solutions to pressing community issues. The university empowers graduates by future-proofing them for the rapidly changing world, facilitating a tangible impact on civic renewal.
In essence, Tshwane University of Technology is not just an educational institution; it is a dynamic force shaping a brighter, inclusive, and transformative future for individuals and communities alike. With an unwavering commitment to academic excellence, social impact, and global recognition, TUT is at the forefront of shaping the educational landscape and contributing to positive societal change.
Don't miss the opportunity to be a part of ICCC 2024, where you can engage with leading experts from around the world. Register today to secure your slot at this prestigious event!
For More Information: https://climatechangeconferences.com/