The University of Nigeria Academic Partnering with ICCC 2024
|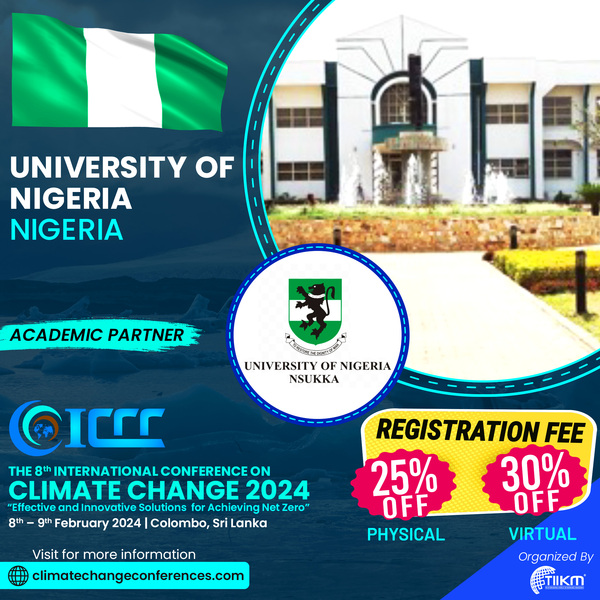 The 8th International Conference on Climate Change 2024 (ICCC 2024) which will be held from 8th to the 9th of February 2024 in Colombo, Sri Lanka (Hybrid Platform) ) has collaborated with The University of Nigeria as an Academic Partner.
The University of Nigeria is a federal institution in the Eastern region of Nigeria which is called as the UNN for short. The University of Nigeria, which was established by Nnamdi Azikiwe in 1955 and formally inaugurated on October 7, 1960, has three campuses in Enugu State: Nsukka, Enugu, and Ituku-Ozalla. The institution of Nigeria, which is modeled after the American educational system, is the country of Nigeria's first fully autonomous and indigenous institution. One of the top five colleges in Nigeria, it was the first land-grant institution in Africa. The institution contains 102 academic departments and 17 faculties. The university provides 211 postgraduate programs in addition to 108 undergraduate programs.
On May 18, 1955, a law was approved authorizing the establishment of a university in Nigeria's Eastern Region. With the adoption of a law by many Nigerian officials on this date, particularly with the encouragement of the then-Premier of the Eastern Region, Dr. Nnamdi Azikiwe, the University of Nigeria's history officially began. Inviting the United States of America and the United Kingdom to send advisors to assist in the planning of the physical and academic parts of the prospective institution was one of the first steps the Eastern Nigerian Government took towards carrying out its commitment.
The university had complete autonomy and the authority to award its own degrees. Since Ibadan was still a university college that awarded degrees from London at the time, it officially became the first university in Nigeria. It also became the first university founded by a regional government in Nigeria. In January 1963, the oldest university in Nigeria, University College Ibadan, severed its ties to London and changed its name to University of Ibadan. The first graduates with degrees from Ibadan (as opposed to London) were produced in July 1967, by which time Nsukka had produced two crops of graduates and had garnered all the attention for producing the first graduates from an independent Nigerian institution.
To elevate the University of Nigeria, Nsukka to the top of academic research, development, knowledge transfer, and human resource development while advancing the fundamental principles that would assure the recovery of human dignity. To establish a practical, globally competitive, and research-focused institution that provides top-notch instruction and information while serving as more than just an ivory tower.
Don't miss the opportunity to be a part of ICCC 2024, where you can engage with leading experts from around the world. Register today to secure your slot at this prestigious event!
For More Information: https://climatechangeconferences.com/