Mulawarman University Academic Partnering with ICCC 2024
|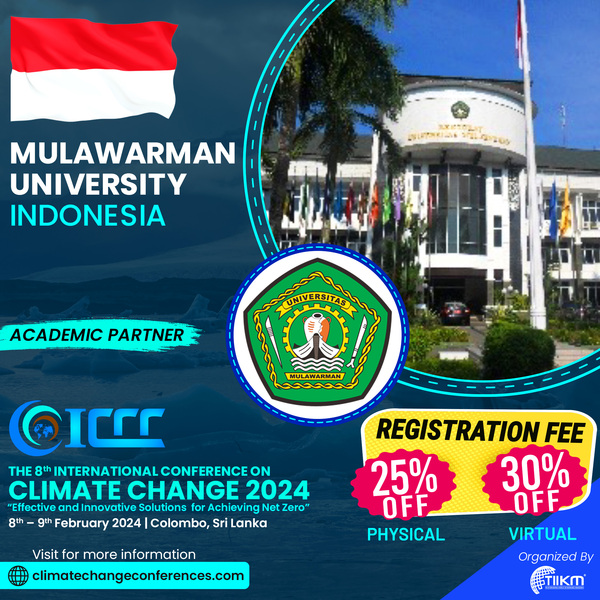 The 8th International Conference on Climate Change 2024 (ICCC 2024) which will be held from 8th to the 9th of February 2024 in Colombo, Sri Lanka (Hybrid Platform) has collaborated with Mulawarman University as an Academic Partner.
The previous name of Mulawarman University was the Higher Education of Mulawarman and it established on 7 June 1962 in Samarinda, which based on the decree of East Kalimantan Governor No. 15/PPK/KDH/ 1962 and 27 September was confirmed as the anniversary of Mulawarman University. Then Unmul was officially confirmed since the Minister of Education and Science issuing a decree No. 130 on 28 September 1962 and it had been completed by the decree of the President of the Republic of Indonesia No. 65 on 23 April 1963. At the beginning of establishing, Mulawarman University has 4 faculties: Faculty of Public Administration and Commerce, Faculty of Agriculture, Faculty of Forestry, and Faculty of Geology. Based on the decree of the President of Republic of Indonesia No. 66 on 7 September 1982, Mulawarman University got a new faculty in education. The following faculties:
Faculty of Economics
Faculty of Social and Political Sciences
Faculty of Agriculture
Faculty of Forestry
Faculty of Teacher Training and Education
Since 2000, Mulawarman University had developed some new faculties and study programs. In 2015, Mulawarman University grew up and has 14 faculties and 81 study programs as follows:
Faculty of Fisheries and Marine Science
Faculty of Law
Faculty of Mathematics and Natural Sciences
Faculty of Engineering
Faculty of Public Health
Faculty of Medicine
Faculty of Pharmacy
Faculty of Cultural Studies
Faculty of Information Technology and Communication
The Vision of Mulawarman University is to "being an International Standard University by participating the nation development through the Education, Research, and Community Services based on the Natural Resources, in particular Humid Tropical Rain Forest and its environment". Mission of Mulawarman University is "to produce qualified human resources, personality, and professional through the organization of higher education with international standards. To produce high quality and efficient research by promoting the principles of sustainability. To hold accountable management and independent university in accordance with the national standard.
Mulawarman University is strategically oriented towards optimizing work achievements as its primary function and responsibility. This focused approach ensures that tasks are executed with utmost efficiency, fostering gradual and sustainable development. The organizational principles shaping Unmul's business plans include:
Good Quality Education and Culture
Showcasing Featured Characteristics
Realism
Balancing Logic, Ethic, and Aesthetic
Realizing the IKK of Higher Education
Data-Based Decision Making
This matrix of principles serves as a guiding framework for Mulawarman University, ensuring a focused and holistic approach to its educational mission and overall development. Through these principles, the university aims to not only meet but exceed expectations in the pursuit of academic and organizational excellence.
Don't miss the opportunity to be a part of ICCC 2024, where you can engage with leading experts from around the world. Register today to secure your slot at this prestigious event!
For More Information: https://climatechangeconferences.com/