University of Cyberjaya, Malaysia as GlobeHeal 2024 Hosting Partner
|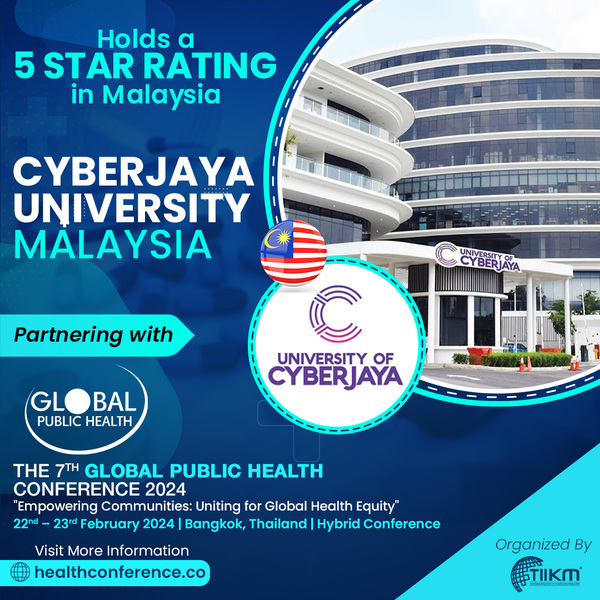 The 7th Global Public Health Conference 2024 (GLOBEHEAL 2024) which will be held from 22nd – 23rd February 2024, has collaborated with the University of Cyberjaya, Malaysia as a hosting Partner.
The University of Cyberjaya (UoC) is a top-tier university in Malaysia, with a 5-star rating in the QS Rankings and a competitive ranking in the Ministry of Higher Education's SETARA ratings.
Established in 2005, UoC is located in Cyberjaya, Malaysia's first smart city, on a 5-acre, fully equipped, green-friendly campus. The university has received 5 stars for Teaching, Employability, Academic Development, Internationalization, Facilities, Social Responsibility, Inclusiveness, and Specialist Criteria (MBBS).
University of Cyberjaya is also ranked in the top 401+ under the Times Higher Education (THE) Impact Rankings 2023. The university offers nearly 40 programs across various disciplines, including medicine, health sciences, nursing, pharmaceutical sciences, education, psychology, physiotherapy, homoeopathic medical sciences, business and IT, and biomedical technology engineering. With a student population of over 7,000 and over 12,000 successful graduates, UoC is staffed by over 300 industry-leading academicians and scholars committed to research and advancing human knowledge. The university continues to form strong partnerships through industry collaborations and joint research projects with leading pharmaceutical corporations and public research universities.
Don't miss the opportunity to be a part of GlobeHeal 2024, where you can engage with leading experts from around the world. Register today to secure your slot at this prestigious event!
For More Information: https://healthconference.co/