Uplift Women to the next level – on their Own
|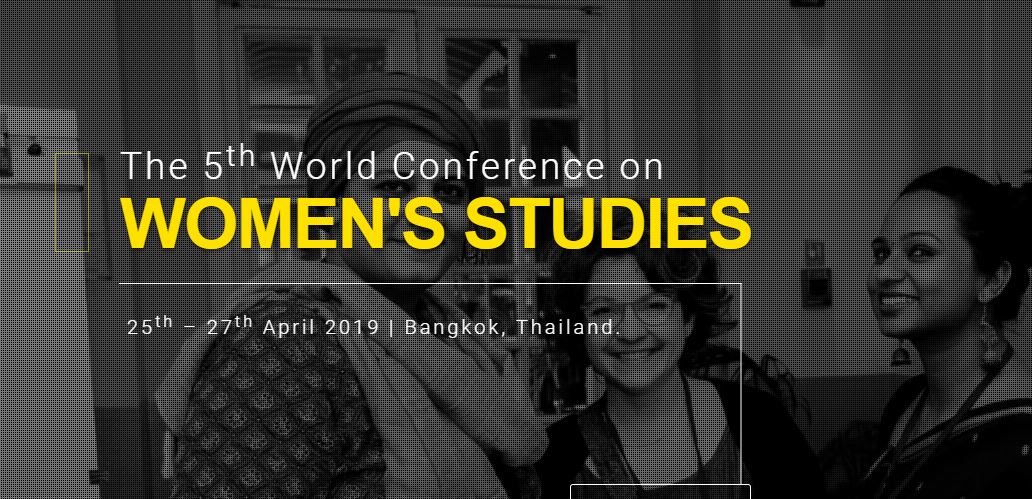 The 5th World Conference on Women's Studies 2019  – Activism, Solidarity and Diversity : Feminist Movements Toward Global Sisterhood."
There are hundreds of conferences to talk about Women's Studies. But out of all, we figured World Conference on Women's Studies 2019 WCWS 2019 is the best one happening at Asian Contest. So we are Discussing 10 key highlights about this Women's Studies conference which is scheduled on 25th – 27th April 2019 in Kuala Lumpur, Malaysia.
WCWS 2019 offers you to best publication opportunities free of charge. There are several journals which are indexed in Scopus, Dietrich's Index Philosophicus, EBSCOhost, E-psyche, Gale, National Criminal Justice Reference Service, PubMed, OCLC, ProQuest, Taylor & Francis, Web of Science, Feminist Periodicals and many more.
WCWS has two Career development workshops which are designed to develop and uplift the participant's knowledge, experience and positive attitude.
A workshop will be arranged by the Conference Chair to discuss on the outcomes and get feedback of the Conference. Moreover, the plans to be executed when organizing for WCWS 2020 will be discussed during the workshop providing an opportunity for participants to share their views and voice their suggestions in terms of the conference theme, venue, dates, featured events and any other applicable areas.
The workshop on scholarly publications conducted by Prof. Diana J. Fox,  Department of Anthropology, Journal of International Women's Studies, Bridgewater State University.  Will highlight important features of scholarly article publication, the process of making the transition between conference paper and article, and will enable participants to learn from one another in a workshop setting.
This year's Women's Studies conference has world-renowned speakers on board and that speeches and insights will give a conference a big value. Dr. Naval El Saadawi , World Renowned Writer, Egypt and Ritu Grover, CEO, TGH Lifestyle Services Pvt. Ltd, India deliver the main two key speeches while a valuable plenary speech by Dr. Madhavi Venkatesan.
Experience sharing with Women leaders
The conference is consisting of life experience sharing sessions of best women personalities of the world. Those experience sharing sessions will make your life experienced and knowledgeable. You can easily stand out from the rest with that knowledge and experiences.
The storytelling session will take place within the Conference, on 27th April 2019, the 3rd Day
Under the themes; Success Stories – personal and project achievements, joyful accomplishments, Stories of Struggles including setbacks, anger and sadness.
The two speeches will be conducted by Prof. Diana J. Fox, Bridgewater State University, USA and Dr. Madhavi Venkatesan, Northeastern University, USA
Constructive feedbacks and development plans
WCWS conference organizers work hard to find a great scientific committee and a great knowledgeable evaluation panel for the conference. Both Scientific committee and evaluation committees will give all the researchers a valuable feed backs for the abstracts and also for the presentations. Research presenters can get constructive feedbacks at presenting time and even after the presentation over.
Most international platform
The world conference on Women's Studies will be filled with many researchers, policymakers, practitioners, activists, and many interest parties more than 20 countries. So we believe this truly international and diversified platform can change the life of all the participants in a better way.
Networking opportunities with fun
Not only research sharing and discussions WCWS will offer you a more relaxing atmosphere to leisurely network with peer colleagues across the world. With the finest food, luxury accommodations at the great venue of WCWS your stay of three days will be more relaxing and fruitful. Moreover, it will be a great experience of a traditional cultural show at the first-day evening dinner of the conference which is free for all participants. Post-conference tours other dinners and lunches are great opportunities to grab in this 2019.
Proven history of as Quality conference
WCWS or The world conference on Women's Studies has passed 4 years history with great reviews and testimonials by world-renowned personals. Also, this year's conference hosted by Bridgewater State University, Flinders University, Australia and Fashion Institute of Technology, The State University of New York. It is organized by The International Institute of Knowledge Management (TIIKM), Sri Lanka in collaboration with Kütahya Dumlupınar University, Turkey and Fathima Jinnah Women University, Pakistan.
So all the partners work together for making this conference a greater success. You log in to organizers social media pages, YouTube and conference history pages to know more about past conferences, photos, testimonials, key speeches and even past publications.
We believe your career will be more developed with WCWS 2019 and we wish you could make it to the conference this year.