Why institutes should collaborate with International Conferences
|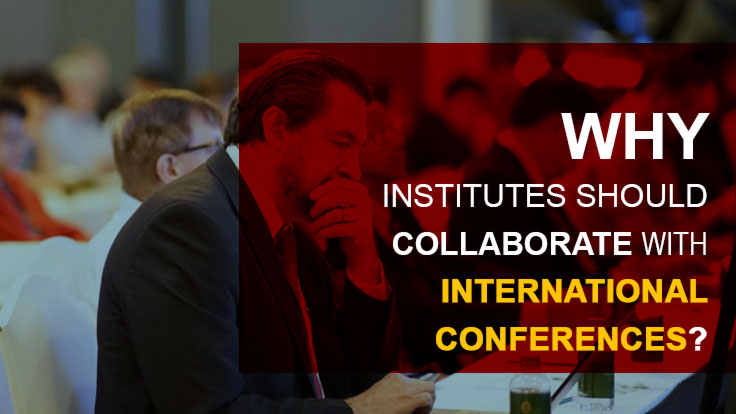 International Conferences are "International Conferences" for a reason. A conference cannot be labeled as international for the mere fact that it contains presenters from all around the globe. But, it should have international collaborations too.
What are these collaborations? What are the benefits an organization gets by partnering with an International Conference? This article is reserved to clarify this particular point, and if you ever were in doubt as to what these partners do towards the success of a conference, read on- this article shall be able to help you out!
The purpose of collaborations
In the current context, it is not only the universities that conduct International conferences. Many private organizations do organize academic conferences, and their standards are truly commendable. While they become the organizing party of these conferences, there are several other parties which collaborate as partners.
Many universities do collaborate with International Conferences as Hosting Partners where they play the main role in launching the conference. Generally Conference Chairperson is from the Hosting Partner University, and in some instances, they provide the venue in which the conference gets conducted too.
In addition to this, there are academic partners, journal partners, travel partners, slide sharing partners and other supporting partners to add value to International Conferences. Here, Academic Partners in International Conferences play an integral role in reviewing the abstracts and papers while the journal partners play a major role in getting the conference proceedings published.
Benefit of recognition
If your university is an Academic Partner of one International Conference, that itself is a great honor to the name of it. An International Conference usually is a fame generating model and by collaborating with such an opportunity, that fane gets equally distributed among all its partners.
Benefit of multiple privileges
If your University is an Academic partner or the Hosting partner of an International Conference, you are granted multiple privileges by the organizing party. Sometimes, the organizing body uses the name and the fame of it partners to take it to more of the target group and in return of this, they provide multiple benefits.
Chances are that you could appoint a key note speaker from your University, appoint session chair persons to judge the presentations, and also receive complimentary registrations for the conference as benefits received in return.
Benefit of perfect exposure
When an organizing body is there in an International Conference, it is them that do A-Z of the conference with the total support of the Hosting Partner if there is any. It is a current practice followed by most of the universities nowadays that they appoint a team of volunteers to help the organizing crew to ensure a smooth flow of work. Through this initiative, this team is there from the conceptualization stage of the process up to the point of final certificate distribution, and at the end of the day, they become experts in conference organizing with knowledge, skills and experience as well.
They get exposed to the hassle and bustle that is generally there at the registration counters on the first day at International Conferences and this is a good exposure to them too. Simply put, International Conferences provide all volunteers out there to get an on the job training that help them shine in the future.
Benefit of getting branded
An International Conference, as mentioned above too, attracts a lot of attention of the academic sector, the corporate fraternity, the local community as well as the media. If you are a small university out there waiting till the appropriate time and chance to be known to the world, then collaborating with an International Conference is undoubtedly the wisest decision you can ever take.
Likewise, there are a lot of benefits of partnering with an International Conference that aligns with international standards. Given above are just some of them, and there are a lot more in the list. On the final note, it should also be noted that the purpose of a university or any other educational institute is to encourage knowledge dissemination, and when International Conferences are designed to serve this purpose, it is a prime responsibility of these institutes to join hands with these efforts.
After all, we all need to see a better world right? Why not we all join together and reach our dream state? For us at TIIKM, collaborations mean everything and we believe if any of our conferences was a success since the inception, that is truly because of the respected partners we had in our journey and we are forever grateful for them.
By: Isanka P. Gamage