WINNERS OF 6TH INTERNATIONAL CONFERENCE ON ARTS AND HUMANITIES 2019 (ICOAH 2019)
|
The International Institute of Knowledge Management (TIIKM), Sri Lanka organized the 6th International Conference on Arts and Humanities 2019 (ICOAH 2019) on the 19th to 20th of September 2019 in Kuala Lumpur, Malaysia, under the theme "Decolonization in the Arts and Humanities".
The Co – Hosting partners of the Conference were the Department of Design, Indian Institute of Technology Hyderabad, India, Concordia University, Canada & the School of Humanities and Languages, Caritas Institute of Higher Education, Hong Kong. In collaboration with Ankara University, Turkey, University of the Visual and Performing Arts as Academic partners.
The Conference was chaired by Dr. Eldad Tsabary, Associate Professor, Concordia University
Coordinator, Electroacoustic Studies (Department of Music) Coordinator (interim), Fine Arts Interdisciplinary Studies (Faculty of Fine Arts)
Each of the sessions and presentations were evaluated by an individual International evaluation committee and based on their marks and the conference chair's consent, Session's best presenter, Best Student presenter and Best Overall presenter were selected. The Best Student presenter and the Best Overall presenter won Free Registrations for ICOAH 2020 in addition to many other benefits.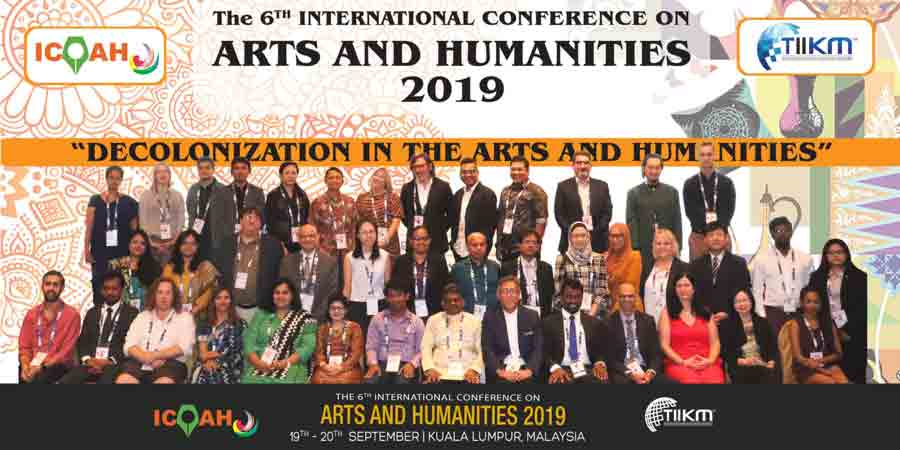 OVERALL BEST PRESENTER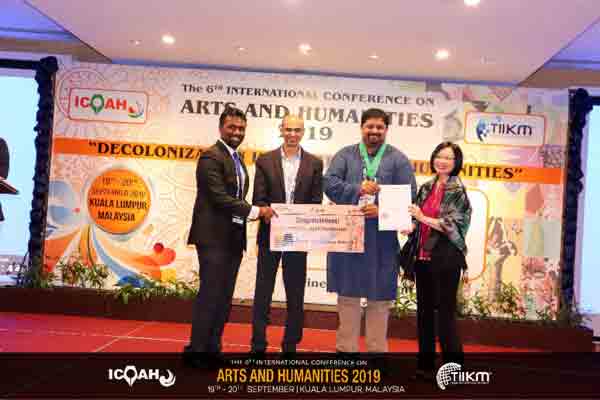 Mr. Nandabalan Panneerselvam from the National University of Singapore, Singapore was judged the overall best presenter. He was also the best presenter for the session 'Activism' under the title 'Can the Colonial Master Decolonize? Reading It ain't Half Hot Mum as a Decolonizing Text
---
BEST STUDENT PRESENTER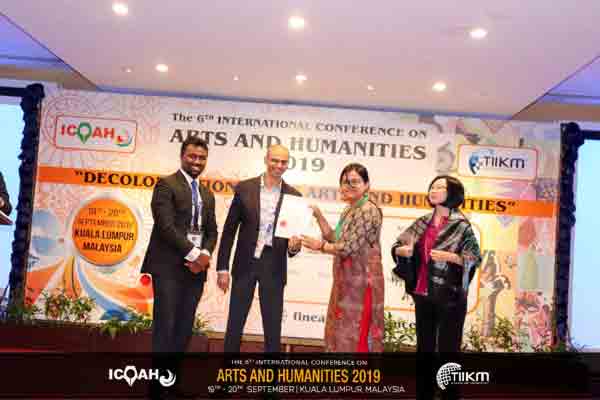 Ms. Panchali Bhattacharya from the Indian Institute of Technology Bhubaneswar, India was judged the best student presenter. She was also the best presenter for the session 'Folk low and tradition' under the theme 'Eco-Myths and Indigeneity in Easterine Kire's When the River Sleeps and Mamang Dai's The Legends of Pensam"
---
SESSION'S BEST PRESENTER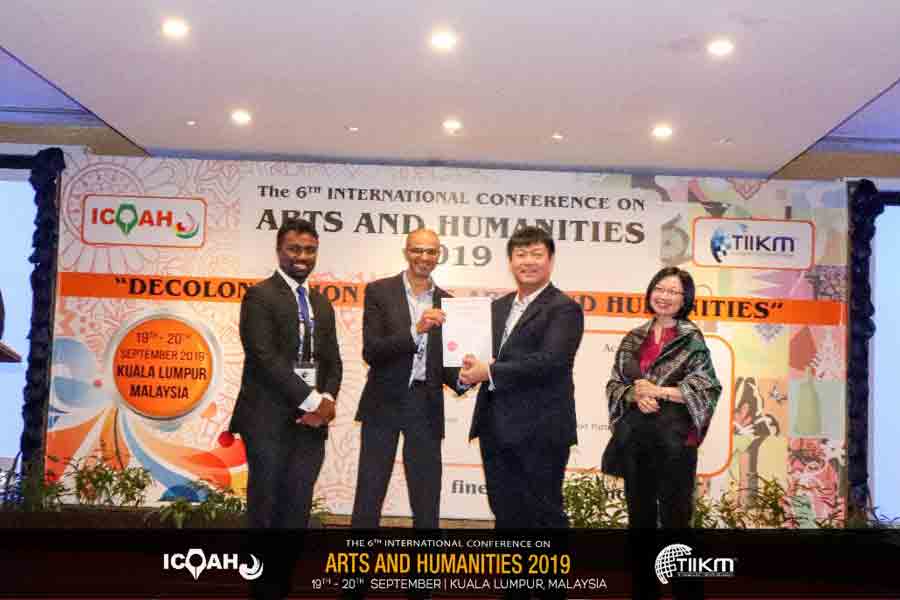 Dr. Martin Lee from Caritas Institute of Higher Education, Hong Kong was judged the best presenter for the session 'Education' under the theme 'A New Music Degree Programme in Hong Kong is Redundant?'
---
SESSION'S BEST PRESENTER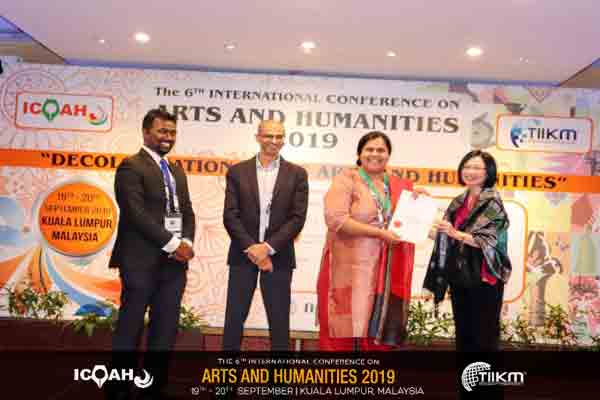 Dr. Mrudula Lakkaraju from the Department of English, Osmania University Hyderabad, India was judged the best presenter for the session 'Film Studies' under the topic 'Representations of Oriental India and the Need for Its Decolonization in Hollywood Cinema'
---
SESSION'S BEST PRESENTER
Prof. Jeremie Eyssette from the Chosun University, South Korea was judged the best presenter for the session 'Cultural Identity' under the title 'Towards the Restitution of Cultural Heritage: Belgium, Dr. Congo and South Korea's Museum Diplomacy'
---
SESSION'S BEST PRESENTER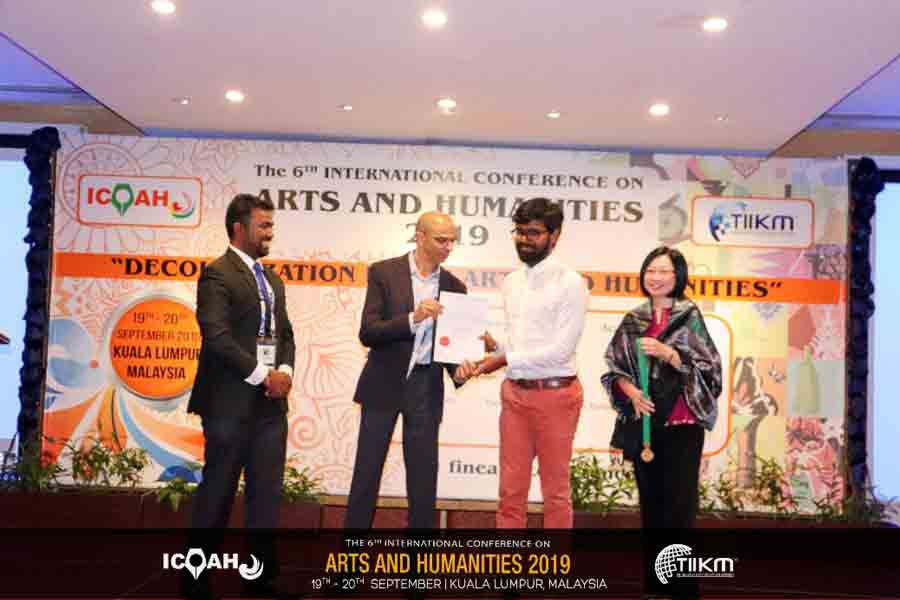 Mr. Jayamanne J.M.D.K.P from the Faculty of Architecture, University of Moratuwa, Sri lanka was judged the best presenter for the session 'Textile & Fashion Design under the title 'Practice Based Research on Tacit Knowledge Management in Local Hand Knitting Craft Practices'
---
SESSION'S BEST PRESENTER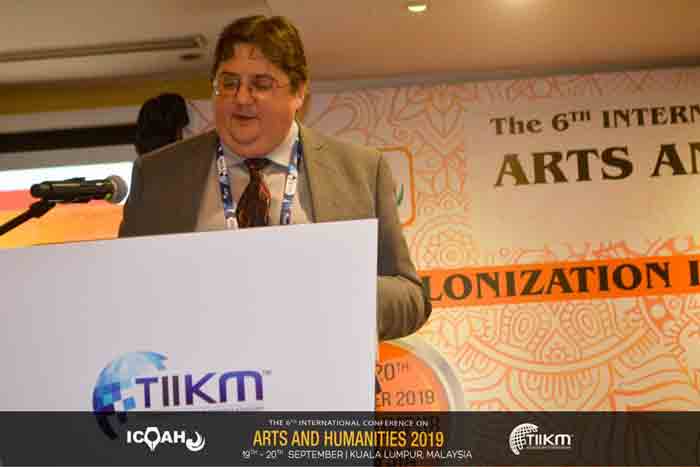 Prof. Steven J Zani from the American University of Ras Al Khaimah, United Arab Emirates was judged the best presenter for the session 'Decolonization in the Arts & Humanities under the title 'I Died of Pneumonia: Machado de Assis and the Post- Colonial Imaginary of the European Subject'