WINNERS OF 6TH INTERNATIONAL CONFERENCE ON SOCIAL SCIENCES 2019 (ICOSS 2019)
The International Institute of Knowledge Management (TIIKM), Sri Lanka organized the 6th International Conference on Social Sciences 2019 (ICOSS 2019) on the 19th  to 20th of September 2019 in Kuala Lumpur, Malaysia, under the theme "Empowered Humanity: Making Knowledge, Innovation and Progress Accessible to All."
The Co – Hosting partners of the conference were the Department of Social and Development Sciences, Faculty of Human Ecology, University Putra Malaysia, Malaysia & the Macmillan Brown Centre for Pacific Studies, University of Canterbury, Christchurch, New Zealand in collaboration with University of Sargodha, Pakistan, The Islamia University of Bahawalpur, Pakistan and Noida International University, India as Academic partners.
The conference was chaired by Professor Steven Ratuva, Director, Macmillan Brown Center for Pacific Studies, Professor, Department of Anthropology and Sociology, University of Canterbury, New Zealand.
Each of the sessions and presentations was evaluated by an individual International evaluation committee and based on their marks and the conference chair's consent, Session's best presenter, Best Student presenter and Best Overall presenter were selected. The Best Student presenter and the Best Overall presenter won Free Registrations for ICOSS 2020 in addition to many other benefits.
OVERALL BEST PRESENTER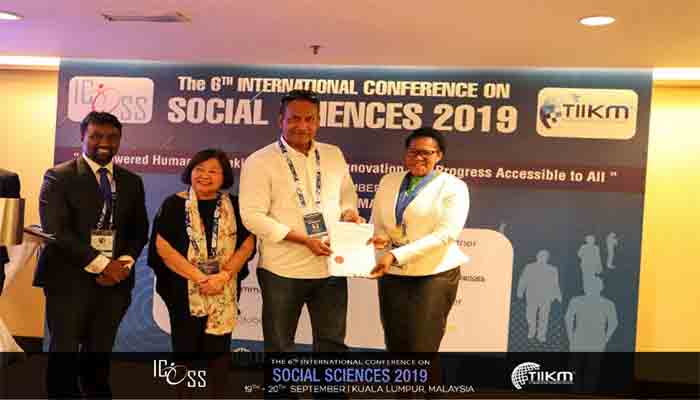 Dr.Sibonsile Zerurcia Zibane from the University of KwaZulu-Natal, South Africa was judged the overall best presenter. She was also the best presenter for the session 'Women and gender equality' under the title 'Games Gone Wrong Boys', School Games and the Constructions of Violent Masculinities.
---
BEST STUDENT PRESENTER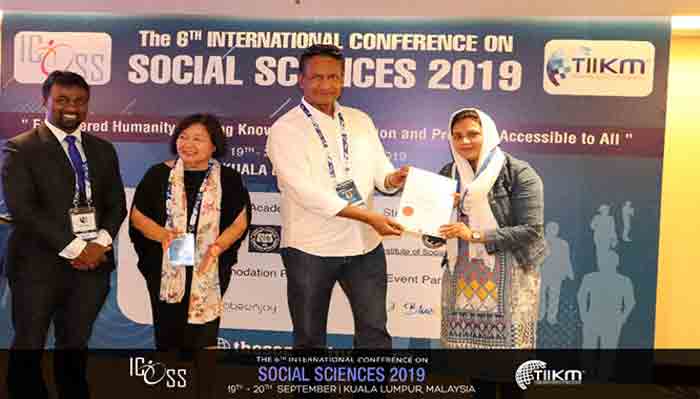 Miss Siddrah Irfan from the Universiti Putra Malaysia, Malaysia was judged the Overall Best student Presenter & the session's best presenter for the session 'Health, Psychology & Social Wellbeing' under the title 'A Pilot Study of Attachment Relationships, Negative Automatic Thoughts and Psychological Problems among College Students in Pakistan'
---
SESSION'S BEST PRESENTER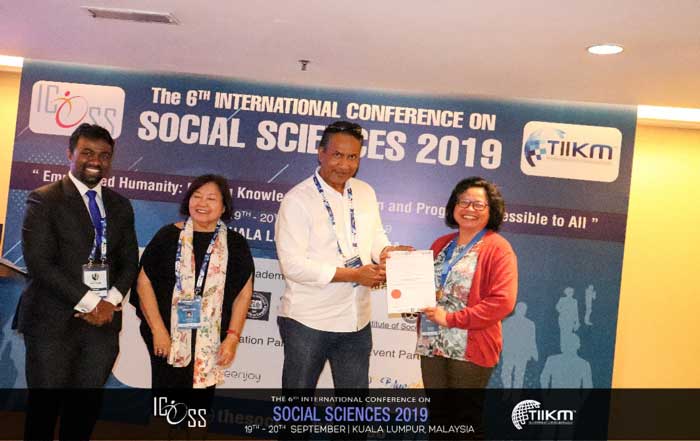 Dr Ani Kartikasari from the Lincon University, New Zealand was judged the best presenter for the session 'Human Rights & Human Resource management' under the title 'Do slaves have a voice? Co-creating policy changes in New Zealand's fishing industry'
---
SESSION'S BEST PRESENTER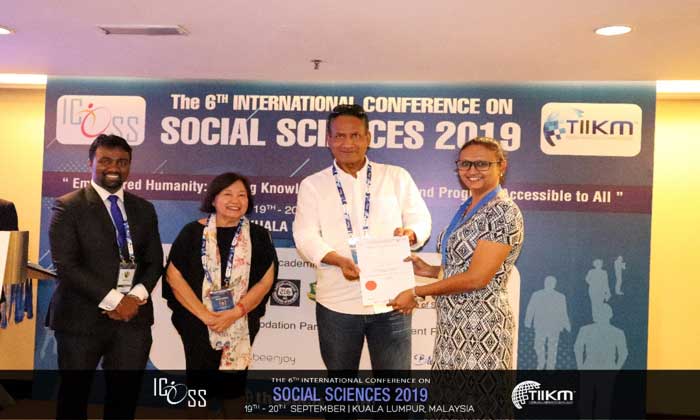 Dr.Mercy Karuniah Jesuvadian from the Nanyang Technological University, Singapore was judged the best presenter for the session 'Education and society' under the title 'Snapshots: Children's Photographs as a research tool'
---
SESSION'S BEST PRESENTER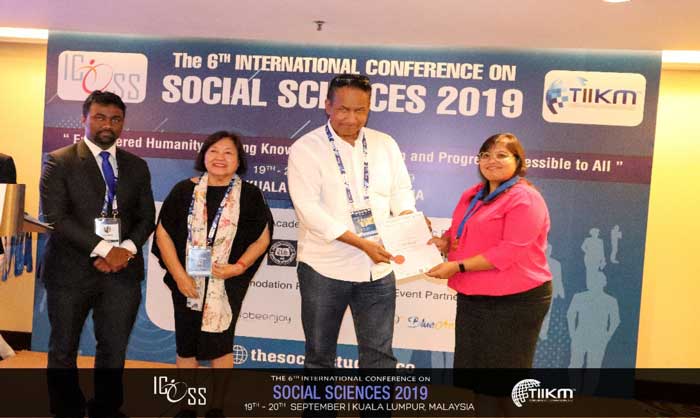 Asst. Prof.Sonali Sardana from the Noida International University, India was judged the best presenter for the session 'Vulnerability and Employment' under the title 'Role of Mindful Emotional Regulation in Cognitive Reappraisal'
---
SESSION'S BEST PRESENTER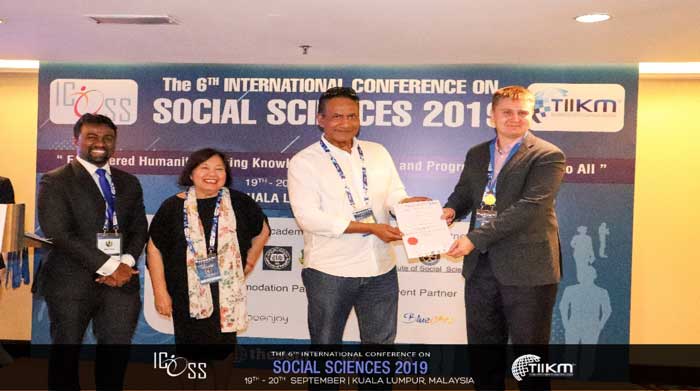 Dmitrii Bushkov from the Chulalongkorn University, Thailand was judged the best presenter for the session 'Economic and Community Development under the title 'Strategic Shift in Professional Services Firms: How Emerging Technologies Change the Audit Firms in Russia'
---
SESSION'S BEST PRESENTER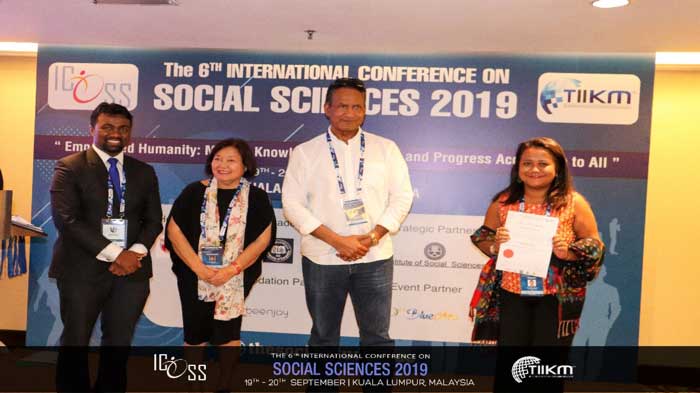 Pranamika Doimary from the Ambedkar University, Delhi was judged the best presenter for the session 'Environment and Sustainable Develoment' under the title 'A Road Not Taken: Igniting the Idea of Citizenship and Claim Making amongst the Community Members in Mohgaon Located in the Karanjia Block Categorised under the Dindori District in Madhya Pradesh, India'
---
SESSION'S BEST PRESENTER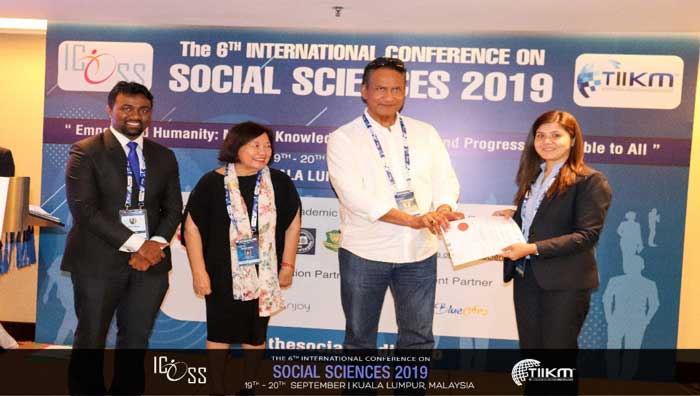 Roshani Bhujel from the Nepal Administrative Staff College, Nepal was judged the best presenter for the session 'Politics and Governance' under the title 'Open Government Data for Effective Governance: Nepal's Current Status and Anticipated Roadmap'
---
SESSION'S BEST PRESENTER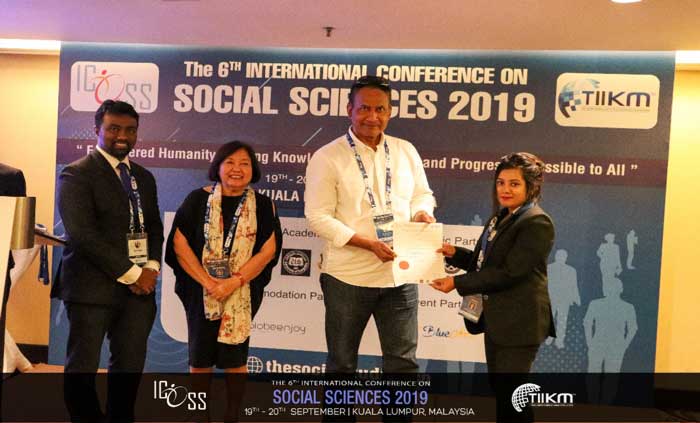 Mst. Touhida Mubarak Moni from the Jahangirnagar University, Bangladesh was judged the best presenter for the session 'Terrorism, Global issues and Peace building' under the topic 'Restorative Justice: An Approach to a Peaceful Society'