A COMPLETE GUIDE TO GET FULL BENEFITS FOR YOUR ACADEMIC PUBLICATION
|

A COMPLETE GUIDE TO GET FULL BENEFITS FOR YOUR ACADEMIC PUBLICATION
Research and development have taken huge attention in the current situation as the whole world is struggling with a pandemic. This scenario has been able to pay attention on the importance of research and discoveries. It takes a lot of courage and determination to conduct a study and obtain the desired results.
As researchers, many scholars complain that it is not challenging to conduct a study for long period, but it has been a real challenge when it comes to communicating with people what they have discovered over the time. One of the major issues faced by novice researchers/authors in the present setting is the lack of perspectives to improve writing for academic publications. Results and discussion can be stated as the most important part of a research. Many scholars are unable to communicate the crucial parts of their study though they have conducted wonderful analysis due to this improper writing skill.
As we all know researchers get their credibility by publishing many publications related to their project. Scholars are in a difficult phase as their academic writing skills don't match with the publication standards. The main cause for this issue is most of the academicians are coming across from the Asian region. Two third of the Asians are using different languages as their native language and English has been the second language.
English is the key language for everything so does in the publication world too. Some scholars find difficulty in communicating in English due to various reasons. Thus, their research articles are vulnerable to get rejected as their study is not clear to the audience.
Wouldn't if it is great to have a supporting system to avoid your problems in communicating in a different language? How about having constructive review comments for your article before submitting it to journal publication? You would get the opportunity to develop your writings as well as to impart their research knowledge to make a difference matching with the standards too. Considering this matter, we TIIKM Publishing would like to introduce our free publishing service called PublisHelp.
PublisHelp is designed to provide preliminary reviews and comments for full papers from a special publication committee before publishing the paper. This is a breakthrough free TIIKM project for all our conference participants to make their research publication possible. Authors are encouraged to submit their full paper before the conference keeping a duration of about 6 weeks.
This will help you to strengthen the body of the article and you may get tips to improve the sections of your presentation as this is developing before the conference. We believe the constructive comments and suggestions from our expertise publication committee would help you to make your article more likely to be accepted by the high indexed journals.
We hope you are much excited after reading this article and ready to enjoy this brilliant opportunity just for free of charge.
Feel free to contact us via publication@tiikmedu.com
Good luck in your research journey!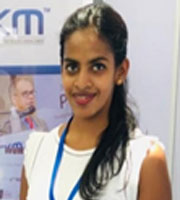 Article by
Ms. Ruksheela Bangamuwage
TIIKM Publishing
The International Institute of Knowledge Management