FIGHTING THE 'CORONA' THE ACADEMIC WAY: UTILISING (UN) TIMELY HOLIDAYS
|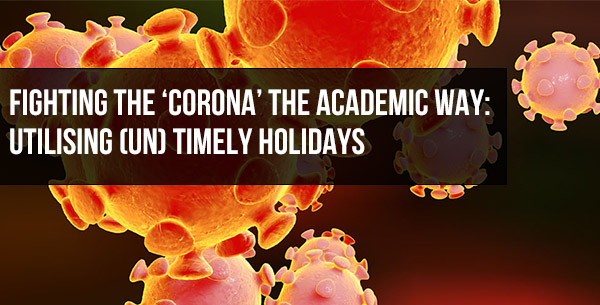 Fighting the 'Corona' the academic way: Utilising (un) timely holidays
---
The entire world is fighting an invisible demon these days which has enough potential to completely erase the footprints of the entire human race from the planet earth. Every human being irrespective of his or her geographical location, caste, sex, religion, class etc is fighting in their own ways to give this demon called 'Corona' a befitting reply. Nations have come to a halt putting a check on all their economic activities. With schools, colleges and other educational institutions closed, the academic pursuits have also come to a standstill. Students and researchers along with the teachers are asked to stay at their homes and work towards the achievement of their academic pursuits. While students are supposed to dive deep into their books and class notes, the onus is also on the academic fraternity as well to utilise this 'untimed' leave to their advantage. Here are some suggestions that can be followed by the academicians and researches for the upliftment of their academic pursuit and career.
Brainstorming new ideas: Ideas come and go. If unattended, the chances are high that they will be lost in the lanes of forgetfulness. Therefore, they must be attended sincerely and seriously. The best way is to take a piece of paper along with a cup of coffee or tea and jot down the ideas (or suggestive proposals/themes etc) that can be worked upon during the spare times. Mind works best when it is relaxed. The entire blueprint of the paper can be developed. We get little time to work on ideas due to our busy schedules while at work. These ideas and blueprints will motivate us to work further and develop the ideas into full fledged papers.
Surveying the literature: We are often short of time to study when at work. During these period of 'lockdowns' we can rigorously go through the research papers in journals and write down the main points in our note books. In this way, we can gain some conceptual knowledge for our upcoming ideas.
Managing contacts: Most of us will be glued to our smart phones all the times as we find difficult to find something else to keep ourselves busy. Fine! We can utilise this time and send mails to eminent scholars/faculty members working in our fields sharing with them our field of interest. This will help in establishing a network of academic connections which will wonderful results in near future.
Using You Tube to learn new skills: Researches can use this time to learn new skills like Excel, SPSS etc. Simply listen to the lectures and keep on practicing simultaneously. If done with sincere heart and mind, it is bound to give wonderful results.
Listening to online lectures: Different online learning platforms like Iversity, Coursera, Swayam etc. offer wonderful lectures (along with texts) for the learners. Going through the course content will assist the researchers to understand the subject in a clear and concise manner. In this way, a researcher can clear the fog concerning a difficult subject.
Written by
Abhishek Mishra, Assistant Professor, Department of Business Administration (Human Resource), The University of Burdwan, India