THINGS TO CONSIDER WHEN YOU "CITE AND REFER" IN SCHOLARLY RESEARCH
|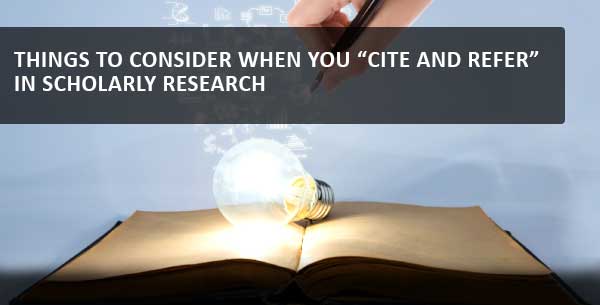 THINGS TO CONSIDER WHEN YOU "CITE AND REFER"
IN SCHOLARLY RESEARCH
---
  – How to choose good and sound journal articles –
Before conducting any research, it is important for the researcher to read on prior research in the area of interest. This is of paramount importance to highlight one's research gap and build the research on evidence. Furthermore, carrying out a sound review on already published research in the area of interest provides a good base for any research.
The aim of this blog article is to give a small guidance on citing from journal articles for scholarly research. Simply, this includes a set of tips you can use while referring and citing from journal articles.
             – Number of Citations
When you are reading a research paper online, it is easy for you to find the number of citations recorded by the article. Citing and referring a journal article with a relatively high number of citations is important when you are writing your research paper or thesis.
              – Year of Publication of the Journal Article
This is of importance when it comes to citing. It is not suitable to pick very old journal articles when you do citations. The validity of such citations are considered to be low in the academia. Articles which were published 5-10 years back can be given as a fair time range to be considered.
              – Impact Factor and Indexing
A journal with a good impact factor and indexing from different indexing sources can be considered as a good journal to refer and cite research papers. Citing/ Referring such articles will add more validity to your research.
               – Journal Website
Having a thorough look at the journal website will give a considerable understanding of the journal's quality. Mistakes in language, malfunctioning links, missing details, unreliable information and wrong contact details are a few examples to identify a faulty journal. Articles available on such journals are not suitable to be cited or referred.
               – Whether the Articles are Peer-reviewed
When you are citing and referring in scholarly research, it is important to check whether the chosen articles have been published after sending through peer-review process. Peer-reviewing amplifies the quality of the paper and reliability of facts.
                – Quality of the Paper
Quality of a paper is hard to be measured. It requires a lot of knowledge and experience to completely evaluate a paper's quality. However, an average researcher can still get an understanding by looking at the language and style of writing. If you feel a paper is poorly written, you may decide not to cite or refer such papers.
                 – Plagiarism
You can spend some time to check plagiarism if you find the article bit suspicious. Some journal articles may seem very sound and relevant to your study, yet no many people have cited. In this case you may check plagiarism for the good.
Moreover, if you are new to scholarly research process, you can always seek advice from your supervisor or any other consultant in choosing academically sound articles in order to cite and refer.
Keep this little tips in mind when you search for previously published work to build up your research.
Written by
Yasodara Pemarathne (yasodara@tiikm.com)