THINGS TO CONSIDER WHEN CHOOSING AN APPROPRIATE JOURNAL TO PUBLISH YOUR RESEARCH PAPER
|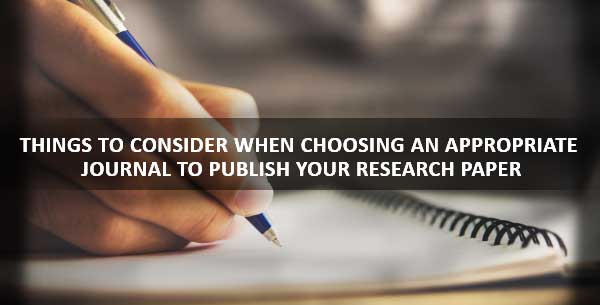 THINGS TO CONSIDER WHEN CHOOSING AN APPROPRIATE JOURNAL TO PUBLISH YOUR RESEARCH PAPER
---
Publication in a good peer-reviewed journal is an obvious goal for every academician and a researcher. Also, publishing your research paper which is the output of your hard work in a good journal will help develop your career and academic profile without doubt.
Submitting a manuscript to an unsuitable journal is one of the most common mistakes made by both novice and experienced researchers. There may be multiple reasons for this such as lack of knowledge and lack of time to get published.
However, especially for novice researchers; choosing a good journal can be challenging. This blog is to share the knowledge we gathered through industry experience. We believe this can assist you in taking decisions on choosing a journal. Have a read on the below tips.
     – Aims and Scope of the Journal
Before choosing a journal it is important to have a through look at the section called "About the journal" and "Aims and Scopes" or something similar. If your research paper matches with the mentioned aims and scope journal then you can consider it as a suitable journal.
 – Impact Factor and Indexing
This is important if your institution/ university is particular about impact factor and indexing. You can easily find impact factor on journal website and indexing details in a section commonly termed as "Abstracting and Indexing". Here you should be keen on the indexing sources applied to your discipline.
   – Panel of Editors and Reviewers
One feature of a good international journal is presence of a geographically dispersed editorial board. It gives a sign on the soundness of the journal. If editors and reviewers are limited to a certain geographical are, it might lack international flavor.
 – Continuity of the Journal Publications
Having published issues in the prescribed frequency is important to understand the quality of the journal. After considering above points it is important to check whether the journal has continuously published issues. This is a good way to avoid choosing predatory and fake journals.
  – Already Published Articles in the Journal
To make a fair self-judgement on the suitability of the journal to your paper by looking at already published articles in the Journal. If you find those articles are of similar nature (Not the same study) you can submit to the journal.
     – Publication Process and Time Frame
Read on what the journal mentions about their publication process and time frame. Journals adopt different reviewing processes and amongst double blind peer reviewing is the widely accepted reviewing process among scholars. Moreover, a journal promising a very little publication time frame such as a couple of weeks (Mainly journals with Article Processing Charges) is not a good journal to publish your paper.
These are only a few main points that you can consider in choosing an appropriate journal. We believe that the above points will help you approach a suitable and a good journal to publish your research paper and minimize mistakes in choosing a journal.
Written by;
Yasodara Pemarathne –  (yasodara@tiikm.com)
Janadari Jayarathne –  ( janadari@tiikm.com )