ICOPH 2019 Conference Report
|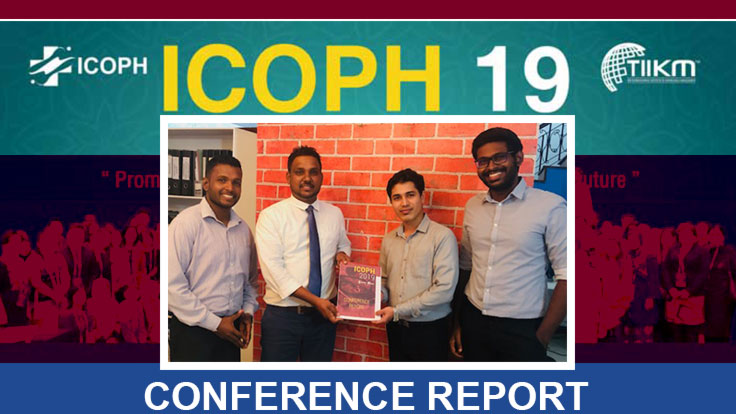 The Conference Report of The 5th International Conference on Public Health 2019 was officially handed over to Mr Oshadee Withanawasam, CEO and Chairman of The International Institute of Knowledge Management (
TIIKM
) by Mr Duminda Koralagamage, Assistant General Manager of TIIKM, Mr Arshad Refai, Head of Marketing of TIIKM, and Mr Austin Joseph, The International Relations Officer of TIIKM.
The 5th International Conference on Public Health 2019 (ICOPH 2019)
 was organized by The International Institute of Knowledge Management (TIIKM), Sri Lanka in collaboration with the 
Mahsa University
, Malaysia and 
Taylor's University
, Malaysia as the successful Co-Hosting partners of the Conference and Independent University Bangladesh, Bryan University, USA, University of Ghana, Sikkim Manipal Institute of Medical Sciences, India, University of Sri Jayewardenepura, Sri Lanka and Universiti Sultan Zainal Abidin (UniSZA), Malaysia were the successful Academic Partners to the Conference. The Conference was held on 10th –12th July 2019 at Kuala Lumpur, Malaysia under the theme "
Promoting Global Health Equity towards a Sustainable Future."
 The Conference was Chaired by Professor Dr Hematram Yadav
Department of Community Medicine, MAHSA University. Malaysia and Prof. Dr Rusli Bin Nordin Taylor's University, Malaysia. The Conference had almost 250 leading academicians, medical students, clinicians, public health professionals, health care specialists, health care workers, health economists, researchers, scientists, health workers, policymakers, social workers, and other related professionals from 31 countries around the world.
Below you can find attached the official full Conference Report of ICOPH 2019. The reports consist extended summary of Conference including Keynote Forum, all the 32 Conference Technical Sessions, 22 Poster Sessions, Panel Discussions, Workshops, Conference Closure and Awards Ceremony.  The Report was written by a Committee of Rapporteurs led by Dr. Xiong Cailian from MAHSA University, Malaysia. The other committee members were Kheong Wen Shan Sherly, and Divieya Kumara Mahendran.