KNOWEX ONLINE SUCCESSFULLY CONCLUDED WEBINAR ON RESEARCH AND PUBLICATION
|
WEBINAR TITLED : "SURVEY RESEARCH IN SOCIAL SCIENCES"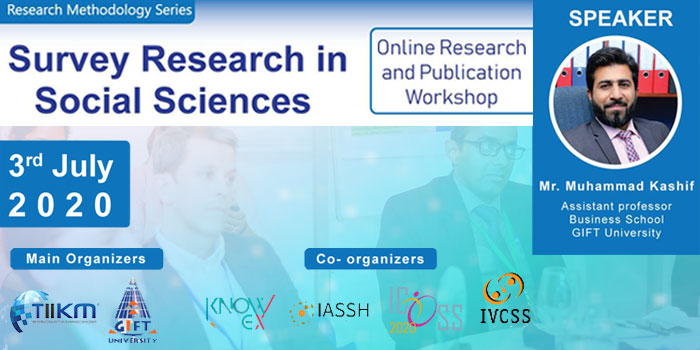 The webinar titled "Survey Research in Social Sciences" organized by KnowEx Online, The International Institute of Knowledge Management (TIIKM) and GIFT University, Pakistan was held successfully on 3rd July 2020.
Prof. Muhammad Kashif, Business School of GIFT University served as the speaker and he shared his expertise in Survey Research and Publications with the attendants of the Webinar. Over 150 attendants from different countries including Sri Lanka, India, Pakistan, Bangladesh, USA, Malaysia, Philippines, Indonesia, Nigeria, United Arab Emirates, South Africa, Japan, United Kingdom, Nepal, Bhutan and Thailand took part in the webinar.
The two hour long webinar started with the delivery of the speaker. Throughout the first hour multiple aspects of Survey Research was explained with clear descriptions and excellent examples by the speaker. The second hour was dedicated to question and answer session where the session was flooded with different questions for the speaker. The speaker nicely provided answers for over hundred questions and the participants were delighted to gain answers for their questions.
Appreciation towards the speaker and organizing committee was received right after the conclusion of the delivery and the resource speaker also shared his contact details and welcomed the participants to contact him for any clarification making the webinar a networking opportunity for all.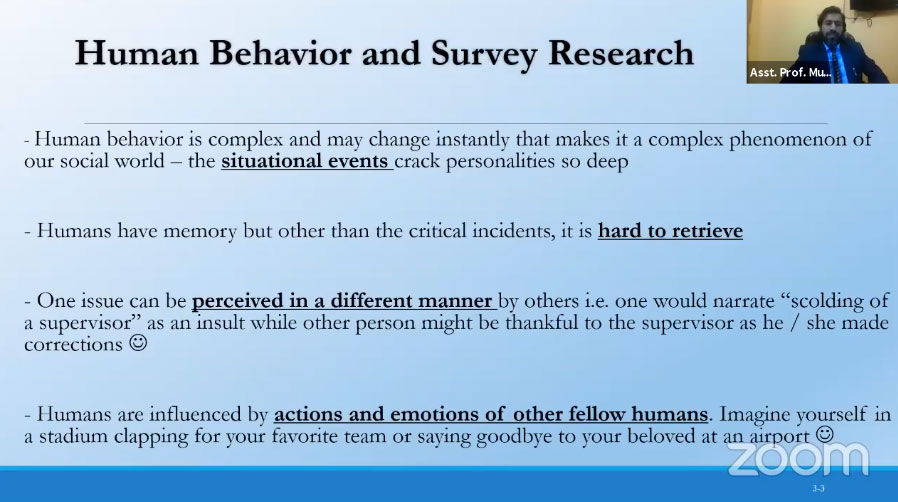 Below section highlights resource speaker's profile.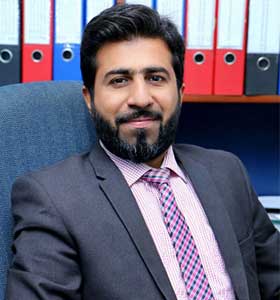 Prof. Muhammad Kashif
GIFT University, Pakistan
Mr. Muhammad Kashif is working with GIFT University, Pakistan as Assistant Professor in the business school and possess over 15 years on experience as a visiting professor in several countries. Further he has published around 53 articles with international journals of repute.
In addition to teaching and research, he is working with Emerald Publishing as Brand Ambassador and has offered online and on-site training programs in countries such as Malaysia, Indonesia, Sri Lanka, and Morocco. He has offered more than 50 training programs as a lead trainer. Academically, the workshops include: writing and publishing for journals, qualitative and quantitative research methods, qualitative data analysis, supervision and teaching in higher education.
As a corporate trainer, he has offered training and consultancy in the field of international branding, customer aggression management, employee volunteerism at workplace, marketing strategy, and market segmentation. Muhammad has worked with world renowned academicians and researchers in Asia, Europe, and Africa and brings a diversified experience as an academic as well as a trainer / consultant for corporate world. These days he is working over half a dozen projects with researchers from Russia, India, Pakistan, Sri Lanka, Italy, and USA. Moreover, he is associate editor for South Asian Journal of Marketing.
Written By,
Yasodara Pemarathne