St. Rita's College of Balingasag Academic Partnering with ICEDU 2024
|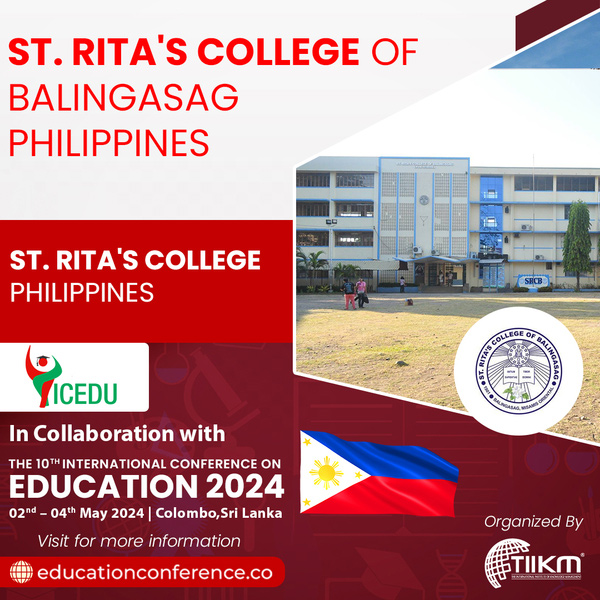 The 10th International Conference on Education 2024 (ICEDU 2024), which will be held from 2nd 3rd and 4th May 2024, has collaborated with the St. Rita's College of Balingasag, Philippinesas an academic Partner. Nestled in Balingasag, Philippines, St. Rita's College has long been a cornerstone of education in the region. With a rich history and an unwavering commitment to academic excellence, this institution continues to nurture young minds and shape futures.
St. Rita's College boasts a storied past, deeply rooted in the community it serves. For generations, it has been a source of knowledge and inspiration, fostering growth and development in countless students.
The college offers a diverse range of academic programs, spanning various disciplines. From the arts and sciences to business and technology, St. Rita's College ensures that students receive a comprehensive education that prepares them for success.
St. Rita's College places a strong emphasis on character development, instilling values, ethics, and a sense of social responsibility in its students. Through community engagement and outreach initiatives, the college encourages students to become active contributors to society.]As St. Rita's College continues to evolve, it remains dedicated to its mission of providing a nurturing environment where minds are enriched, and futures are shaped. It stands as a testament to the transformative power of education in the Philippines.
In summary, St. Rita's College of Balingasag, Philippines, is a place where academic excellence meets character development, and where the legacy of education continues to thrive, inspiring generations to come.
Don't miss the opportunity to be a part of ICEDU 2024, where you can engage with leading experts and educators from around the world. Register today to secure your slot at this prestigious event!
For More Information: https://educationconference.co/