What Defines the Credibility of an Academic Conference?
|

What Defines the Credibility of an Academic Conference?
In the world at present, the race to accumulate information and to enhance knowledge has been competitive than ever before. Every minute solution requires the support of factual information and the challenge to seek for such legitimate information is on the raise in the developing world. The CPD certification is operated with the main objective of ensuring professionals and those aspiring to progress in their career ladders to equip themselves with the required knowledge and to keep updating one's skills in the pursuit of amplifying one's capability in achieving professional development. Continuing Professional Development (CPD) points are a vital component for career progression and to obtain certifications globally as it ensures both the Academic and Practical qualifications do not become obsolete permitting individuals to up-skill or re-skill.
When Conferences are taken into consideration and that too in the event of the focus being entirely on Academic Conferences, there is a definite requirement to be in line with a qualitative benchmark since it is not just another activity nor an event but a matter of careers and prospects that the participants do step in with aiming to be guided in the right direction. However, with increasing globalization the Conference industry is saturated with predatory Conference organizers operating with no certification that contribute to doubts on the quality of the Conferences organized leading towards the research fraternity to be at stake. Hosting Academic Conferences with industry cohesiveness is a science that one has to master to ensure every step counts in constructing a community that would feed fruitfulness in the mission towards uplifting an organized society backed with useful knowledge.
The International Institute of Knowledge Management (TIIKM) is a Professional Conference Organizing institute operating in the Knowledge facilitating industry in the realm of Education management and is officially a CPD accredited institute certified by the CPD Certification Service, UK https://cpduk.co.uk/providers/the-international-institute-of-knowledge-management. All Conferences organized by TIIKM are in par with International standards and are tailor made to suit the requirements of the target market and are consistently updated to ensure timely guidance are provided to the Conference participants that will cater to the desired career growth. In this endeavor, the institute has introduced many initiatives with the sole aim of developing the quality of research, the engagement of the industry for practical implementation and in promoting the intervention of the policy makers to provide avenues to bridge study to industry.
For more information on International Conferences, please visit www.tiikm.com.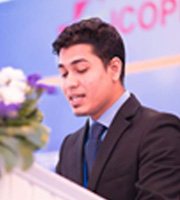 Article by
Mr. Arshad Refai
Head  of Marketing
The International Institute of Knowledge Management