Why STUDENTS should present at International Conferences?
|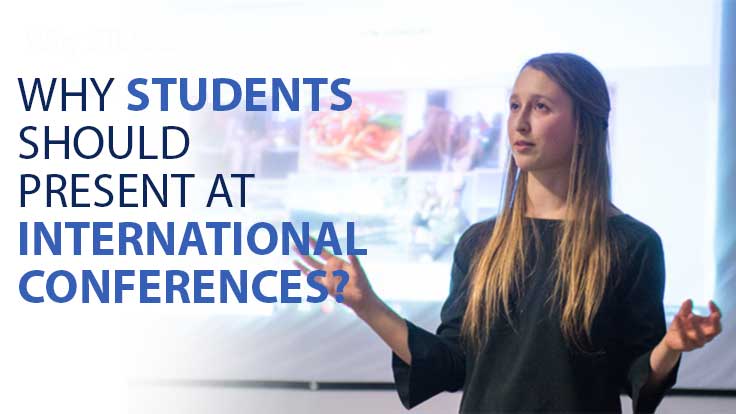 Why STUDENTS should present at International Conferences? – Breaking the fears of young researchers
Main description
Researching is not a field that everyone embraces with love and passion. It is always the minority that prefers researches and when they do, they do it hard. During undergraduate and post graduate diaries, students get the opportunity of researching and they often do this under the supervision and guidance of their professors and senior lecturers.
But, the tragedy begins with them not taking any action to proceed further with their successfully done researches. Sometimes, they do not really know how, but the other times, they know the opportunities that await them, but are badly reluctant to give them a chance.
In this article, we are to discuss about the benefits that international Conferences have especially for the students, who are young researchers out there.
It's your opportunity to present your research effort!
A research is never a simple task. It's the final outcome of months and months of topic conceptualizing, literature exploring, data collecting, analyzing and then finalizing. An international Conference is the only platform where you get to present your research to an international audience. Yes, even thinking about this may panic you since this is going to be your first time, but this is going to be fun and the fact that your efforts obtain a value in front of a global gathering of intellectuals will surely be an inspiring feeling for you.
If you are a student having a good research with you, you can also try poster presentation options that are available in international Conferences. Through this means too, students get to explain what their research is to the panel of experts during the session, and this is also a nice experience.
It's your opportunity to meet fellow research students!
Most of the students participate in international Conferences with their research supervisors, especially if it's their first time. And they come in clusters. Generally, according to conference practices, when a group registers together for a conference, the overall fee undergoes a concession, and this relief is mostly admired by students.
If you are student participating in an international Conference, by your own or with a group, make sure you take part in all events designed for students there. Some conferences have especially designed ice breaking sessions for students, student gatherings and other networking sessions where you get to meet fellow research students. The students you meet at these gatherings may be your future research collaborators, and you never know the circumstances.
Thus, build connections among students. Know their information, their research settings and their circumstances.
It's your opportunity meet the leaders!
International Conferences generally feature keynote speakers and plenary speakers who are big shots in the relevant field of interest. They are there in a top position to speak to the world for a reason. On an average day or during any other general visit, chances are so rare, that you get to talk to these intellectuals and exchange your ideas. But, in an international Conference, you can always go straight and talk to them. If you have anything to get clarified by them, you may do that too. They know you are a student, and they consider it a privilege to help a blooming bud to bloom right and beautify the entire world.
It's your opportunity to detect where you are going exactly!
Some students out there can be early career researchers, and international Conferences clear paths for them to sharpen their future. As mentioned above, international Conferences today, has several amenities in their agendas exclusively for students. Career Guidance workshops are one good example. In these programs, experts in the academic field and the corporate sector share their ideas on various aspects, and based on these insights you can always shape your future, if you ever were unsure as to what paths to take.
To be noted, most of international Conferences do have sponsors and they can sometimes have exhibition stalls designed for students that can grant you surprising benefits. You never know how luck may hit on you, so if you see a stall at a conference, peep in and just see what's going on, for a change.
It's your opportunity to have fun and enjoy together!
International Conferences are fun, especially to the young researchers who take part in them. Conferences generally feature cultural shows and networking dinners where all participants enjoy together keeping aside all their stress and fears that they had for presentations.
During cultural shows, they sing, they dance and they have fun together, and students will love these moments and enjoying these moments with a newly met friend from another country can make these moments more memorable too.
*TIIKM Conferences always believe students today are the great researchers tomorrow. This is why there is always a special recognition granted for young researchers in our conferences. We at TIIKM Conferences , recognize the 'Best Student Presentation' in all our conferences, and we hope this is a good way of encouraging young researchers to do more of quality researches in the future too.
We at TIIKM also understand that, sometimes there can be difficulties for students to afford an International Conference even though they do possess a strong passion towards it. In such instances, we will be able to help them with even a partial scholarship that could provide them with a relief, depending on the circumstances.
When all these arrangements have been made, then why wait keeping your research with you, without bringing it to the lime light? Do it, take your first move by sending the abstract to a relevant conference. TIIKM will guide you all throughout your path of success.
Written By Oshadee Withanawasam
Email :Oshadee@tiikmedu.com